3 key takeaways from Donald Trump's NBC interview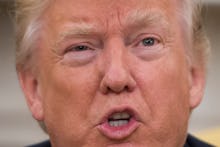 President Donald Trump sat down with NBC Nightly News on Thursday, following two days of extraordinary controversy over his abrupt firing of FBI director James Comey. Yet instead of calming the firestorm that erupted from Comey's dismissal, Trump only created more political headaches for himself in his sit-down with Holt.
Here are three key takeaways from the interview.
1. Trump admits he was thinking about the Russia investigation when he fired Comey
The Trump White House has gone out of their way to assure Americans that Trump did not fire Comey because of the Russia investigation, but instead because of Comey's behavior.
Yet Trump himself admitted he had the Russia probe on his mind when he decided to can Comey — a direct contradiction that raises questions about the appropriateness of Comey's dismissal.
"When I decided to [fire Comey], I said to myself, you know, this Russia thing with Trump and Russia is a made-up story," Trump told Holt. 
2. Trump: Michael Flynn's Russia ties were not an "emergency"
Holt asked Trump why he didn't immediately fire former national security adviser Mike Flynn upon learning that Flynn was vulnerable to being blackmailed by the Russians. Trump responded that White House Counsel Don McGahn "didn't make it sound like an emergency."
Trump didn't elaborate about why he didn't just assume that Flynn being compromised by a foreign adversary might be a problem. Yet that's the story he gave for why Flynn remained in his role, with access to confidential information, 18 days after the White House learned about Flynn's contacts with the Russians and the possible consequences that entailed. 
3. Trump still doesn't seem to fully accept that Russia tried to influence the U.S. election
Every national security leader in the United States has unequivocally stated that Russia meddled in the 2016 election by hacking and leaking emails from the Democratic National Committee and top aides to Hillary Clinton's campaign. National security leaders once again made that assertion Thursday during a Senate Intelligence Committee hearing on global threats to the United States. 
But Trump still doesn't seem to have fully accepted that conclusion. When asked about Russia's meddling, Trump spoke in conditional phrases. "If Russia had anything to do with our election, I want to know about it," Trump said, adding that if Russia "is trying to interfere in our elections it's a horrible thing."