Fyre Festival organizers tell employees they're not getting paid in leaked phone call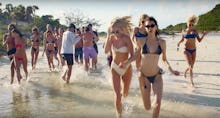 When news of the demise of rapper Ja Rule and entrepreneur Billy McFarland's Fyre Festival hit the web on Friday, April 28, the general internet's response was one of unbridled mirth. Onlookers reveled in the schadenfreude, giddy that wealthy jet-setters looking to rub elbows with models and influencers had been sold a lie. Yet those who fell for the festival's Instagram ruse weren't the only ones to lose. Fyre's employees may be getting the worst end of the bargain.
A leaked conversation between Fyre Media staff and the festival's founders, obtained by Vice, reveals that all those poor souls who worked to pull off this monumental festival and build the celebrity and talent booking app it intended to promote won't be getting paid for their efforts. 
They won't be getting fired either, which is a necessary precursor to collecting unemployment in most states. They're stuck in limbo, permitted to stay on in unpaid roles to help build the company to whatever respectability it once had or quit.
"I understand this is not an ideal situation for everybody, and this will likely cause a lot of you to resign, which we totally get and understand," McFarland said on the call. "That said, if you want to stick with us, we'd love to have you and we'd love to work together and hunker down and get back to a place where everything resumes to business as usual as usual."
As of now, the Fyre Festival has at least six pending lawsuits filed against it. Though they may have even bigger problems to deal with. On the call one employee asks if they should be "concerned about the FBI." 
"That's really more of an individual thing," McFarland responded, offering to connect anyone approached by the Bureau to Fyre Media's lawyers.
Listen to the full conversation here.