'Madden 18' release date and cover athlete Tom Brady revealed for GOAT edition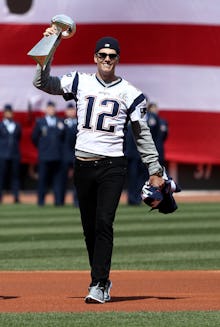 EA Sports has turned to the player commonly referred to as "the GOAT" for their next cover athlete for Madden NFL Football. New England Patriots quarterback and future Hall of Famer Tom Brady will grace the cover of Madden 18, per a press release made available to Mic, which also revealed the game's release date.
Brady is the second consecutive Patriot to appear on the cover. Tight end extraordinaire Rob Gronkowski was on the cover of last year's game.
Madden 18 cover athlete revealed
Here's a look at Brady on this year's cover:
Madden 18 release date
Madden 18 will release on PlayStation 4 and Xbox One on August 25 worldwide, but EA Access subscribers can play it for 10 hours on August 17. Consumers who pre-order the title can also get their copies (digital or physical) on August 22.
The EA Access deal has been in place since the service began, but the early delivery for pre-order customers is a new wrinkle and very similar to what NBA 2K does for its pre-order customers.
This will be the first version of Madden using the Frostbite Engine, so the game comes with high expectations. Having Brady as the cover athlete only augments them.
EA Sports is making a bold statement with this cover choice, especially in the first year of a new game engine. We'll have to wait and see if the final product is the real deal.
More sports gaming news and updates
Love sports games? Check out more content from Mic, including tips for leveling up your NBA 2K17 MyPlayer, playing quarterback in Madden 17, our review of MLB The Show 17 and the classic Nintendo sports games we want to see on the Switch.