Trump reportedly asked for Comey's "loyalty" in a private dinner. He promised "honesty."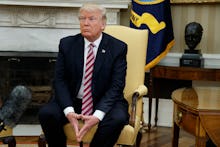 Loyalty is important to Donald Trump. He's demanded it from his employees, his cabinet, his business partners and he's lashed out when he doesn't receive it. In April, he proclaimed, May 1, Loyalty Day, in an official White House correspondence. He asked it of his former FBI director, James Comey, during a private dinner in January, according to a recent report from the New York Times, and he did not like the answer Comey gave.
Comey declined to make that loyalty pledge, according to accounts of the conversation shared in the Times' report, saying he wouldn't be "'reliable' in the conventional political sense." Comey promised honesty. He now believes that was the start of his downfall, as two sources familiar with Comey's account of the meeting assert.
FBI directors are traditionally expected not to be political loyalists, hence their 10-year term length, which would have them overlap with potentially several administrations. Nonetheless, according to the report, Trump pressed for "honest loyalty," belying what might be his misunderstanding of the relationship between the FBI and the White House, and Comey assented.
This claim of Comey's questionable loyalty being behind his firing surfaced earlier Thursday in a CNN article. That piece presented it as being one of two reasons why the FBI director was fired, the second being "the fact that the FBI's investigation into possible Trump team collusion with Russia in the 2016 election was accelerating." 
Trump's own account of this potential dinner with Comey, which he shared in an interview with NBC's Lester Holt Thursday, differs significantly from the New York Times. The president claimed to have asked Comey if he was under investigation, to which Comey replied Trump was not. During that NBC interview, Trump also incidentally revealed that the Russian probe was on his mind in deciding to fire Comey, contradicting previous reports that Comey's handling of Clinton's email case was at the heart of the matter.
The White House has disputed the accuracy of the New York Times' report, clarifying what kind of "loyalty" Trump may have been asking for.
"The integrity of our law enforcement agencies and their leadership is of the utmost importance to President Trump," Sarah Huckabee Sanders, deputy press secretary, told the Times. "He would never even suggest the expectation of personal loyalty, only loyalty to our country and its great people."