Trump reportedly cancels planned FBI visit after being told he would not get warm welcome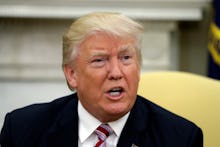 Trump's travel plans may be canceled due to cold shoulders. 
The White House reneged on plans for Donald Trump to visit FBI headquarters after the president caught wind that his presence would not be warmly welcomed, NBC News reported. 
Trump had been planning the visit to the J. Edgar Hoover Building after he fired FBI director James Comey and was planning to greet FBI officials as late as Thursday morning. Deputy press secretary Sarah Huckabee Sanders said it was "very likely" the visit would take place "sometime in the next few days." 
However, the plan was reportedly a no-go by Thursday afternoon. After giving Comey, a well-liked director, the pink slip, Trump was told not to expect warm greetings from FBI officials. The FBI reportedly warned the White House that the optics wouldn't be great for the president. 
"My sense is most FBI employees feel a loyalty to Comey," one person who works at headquarters told NBC News. "Trump would not be well-received at headquarters."
Members of Congress, including many Republicans, were concerned by Trump's decision.
Since Comey's firing, acting FBI Director McCabe has pushed back against assertions by deputy press secretary Sanders that the FBI "lost confidence" in Comey. According to McCabe, Comey "enjoyed broad support" within the FBI.
At least a dozen FBI officials have changed their Facebook profile pictures to James Comey since his shocking firing, according to the Daily Beast.
"Everyone feels like there has been a death in the family," a counterterrorism agent told the Daily Beast. Another agent told the Beast that the FBI was "basically sitting shiva," referring to the Jewish practice of formally mourning a person's death immediately following a funeral.
Comey's firing was a shock to most people in and out of Washington, including Comey. According to CNBC, Comey thought it was a prank when he first heard the news.