Donald Trump floats canceling White House press briefings after spate of inaccuracies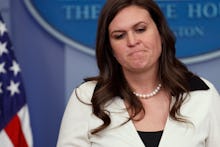 President Donald Trump on Friday publicly mulled the idea of ending daily White House press briefings after his spokespeople came out with conflicting stories about the dismissal of now-former FBI Director James Comey over the past few days.
"As a very active president with lots of things happening, it is not possible for my surrogates to stand at podium with perfect accuracy!" Trump tweeted.  He continued, "Maybe the best thing to do would be to cancel all future 'press briefings' and hand out written responses for the sake of accuracy???"
Trump's comments came after press secretary Sean Spicer and principal deputy press secretary Sarah Huckabee Sanders gave conflicting accounts of why Trump fired Comey.
The mixed messages around Comey's dismissal have made an already sticky situation even stickier for Trump, who let go of the man overseeing the FBI investigation into his campaign's possible ties to Russia.
The problem with Trump's idea of replacing the shoot-from-the-hip press briefings with written responses is that even the written accounts of Comey's firing were wrong. 
On Tuesday night, after Trump fired Comey, a statement from Spicer said Trump "acted based on the clear recommendations of both Deputy Attorney General Rod Rosenstein and Attorney General Jeff Sessions."
Of course, that turned out to be false, as Trump admitted in a Thursday interview with NBC's Lester Holt that he had already made up his mind to fire Comey — even before the letters from Rosenstein and Sessions.