Is Harry Styles' song "Two Ghosts" about Taylor Swift? Let's break down the lyrics.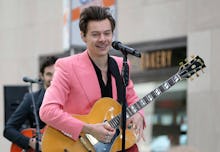 Singer Harry Styles released his self-titled debut album on Friday, and some fans think lyrics on a cut called "Two Ghosts" are about his ex-girlfriend, Taylor Swift. Here's what they've been tweeting about "Haylor," the former couple's nickname:
The two pop stars dated for a few months in 2012 and broke up in January of the following year. Swift admitted her 2012 hit "I Knew You Were Trouble" was about Styles. And after Styles left One Direction to go solo in 2016, he may have pulled a similar move in his new song. 
Listen to "Two Ghosts" below:
In the track's opening lines, Styles fantasizes about a woman with red lipstick and blue eyes with whom he used to be romantically involved. He seems to realize his thoughts are no longer his reality.
[Verse 1]
Swift has blue eyes, and she also wore red lipstick in her Red album art, upon which "I Knew You Were Trouble" appeared. When Styles sings about tattoos, he could be referring to himself, as he has more than a dozen. 
One Genius contributor guessed Styles was singing about a specific memory with Swift in the song's second verse:
[Verse 2]
In the annotation, the fan wrote that Swift's Red song "All Too Well" revealed another connection between them. "There we are again in the middle of the night / We're dancing 'round the kitchen in the refrigerator light," Swift sang on the track.
On Friday, BBC Radio 1's Nick Grimshaw asked Styles if the song was about his old flame. The 23-year-old gave a vague answer. 
"I think it's pretty, like, self-explanatory," he said. "I think, you know, it's about sometimes things change and you can do all the same things ... and sometimes it's just different, you know?"
Before playing "Two Ghosts," Grimshaw introduced the song as "the one about Taylor Swift," and Styles reacted by yelling out, "No!" 
With these rumors just heating up, Styles may be running from questions about "Two Ghosts" for some time. 
Mic has ongoing Harry Styles coverage. Please follow our main Harry Styles hub here.