Nintendo Switch PC Game Streaming: Rainway developers indicate progress on downloadable eShop app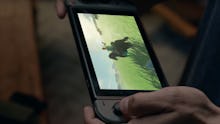 The Nintendo Switch may have PC games support in its future, at least if the Rainway app has anything to say about it. 
The folks behind Rainway previously made mention of wanting to bring their software to the Switch. The Nintendo eShop download would allow Switch owners to stream PC games to their handheld console when connected to the internet. 
We're one step closer to seeing if Switch PC streaming will be a reality.
Nintendo Switch PC game streaming: Rainway eShop app incoming?
The Rainway app for Nintendo Switch has yet to be confirmed, but those hoping for the app's arrival saw some good news on the official Rainway Twitter account.
We can't say for sure if the app is coming, but it looks like Rainway is optimistic. Switch owners may see the app soon, perhaps in time for E3.
Nintendo Switch PC game streaming: What Rainway could mean for Switch?
A Switch app like Rainway could mean being able to rest easy about third-party titles. Games like the newest Call of Duty or Grand Theft Auto titles wouldn't need a Switch-specific release. With Rainway, players would be able to leave their PC on and play the game via the Switch. 
Presumably, any game that comes to Steam would work on the Switch, thanks to the Rainway app. The app could also act as a stand-in for other PC apps, like a web browser, and those hoping to use Netflix would finally have a work-around to get the video app on Nintendo's device — If the app works as promised, that is. 
Rainway's site promises that their app provides 60 frames per second when playing games, so long as your GPU supports DirectX 11. The Switch already has competitors like Playstation and Xbox beat in its ability to be both a home console and a handheld. If it became a PC game-playing machine, fanboys may need to Switch their alliances.
Check out more Nintendo news and coverage
Looking for more Nintendo Switch news? Check out how blind gamers are using the Nintendo Switch and why you can't get your Mii to look quite like you. Nintendo's left Joy-Con issue turns out to be a hardware problem — here's how to solve it. Find out how to buy a console amidst the recent restock. Learn why the Switch cartridges taste so bad. Check out our comparison photos sizing up the Switch to the Wii U GamePad (part one and part two), or find out how to make use of ethernet without the dock and the best way to get alerts when new stock arrives.