Donald Trump just issued a threat to James Comey "before he starts leaking to the press"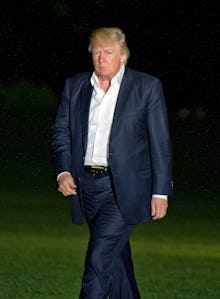 President Donald Trump threatened former FBI Director James Comey in a Friday morning tweet.
In the tweet, Trump warned Comey that he may have "tapes" of their conversations he could brandish should Comey go to the media with his account of the events that led to his firing.
"James Comey better hope that there are no 'tapes' of our conversations before he starts leaking to the press!" Trump tweeted.
Trump's threat comes after multiple news outlets reported a conflicting account of the discussion Comey and Trump had during a dinner back in January, shortly after Trump's inauguration.
Trump said in a Thursday interview with NBC Nightly News' Lester Holt that Comey assured him he was not under investigation during a dinner at the White House. But law enforcement sources speaking with CBS News cast doubt on that claim.
"It would be out of character for Comey to have made that statement even once, much less three times, to the president," a law enforcement source told CBS.
The New York Times also reported that Trump asked Comey to pledge loyalty to Trump during that dinner — something Comey refused to do. 
"He told Mr. Trump that he would always be honest with him, but that he was not 'reliable' in the conventional political sense," the Times reported.
Comey has yet to speak publicly about Trump's claims, aside from a farewell letter he sent to the FBI. It's unclear how Trump's threat will impact Comey's decision to speak out or stay silent.
Meanwhile, Trump's threat of releasing "taped" conversations between himself and Comey is conjuring up further comparisons to former President Richard Nixon, the paranoid former president who taped his conversations. 
Spoiler alert: It didn't end well for Nixon.