'Injustice 2' DLC Characters: 3 fighters announced, 2 more teased for future release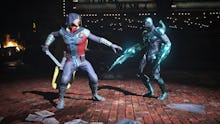 You can play the mobile version of Injustice 2 right now, but if you're waiting for the console version's Tuesday release, there's DLC to look forward to. We already know three characters, but there are six more to come.
Injustice 2 DLC: Sub-Zero confirmed, Raiden teased
The first fighter pack for Injustice 2 was revealed earlier this month. The trailer revealed Red Hood, Starfire and Mortal Kombat's Sub-Zero as the game's first bonus combatants. At the end of the trailer, you see six silhouetted figures behind them, teasing the rest of the DLC roster. As you can imagine, fans are trying to figure out who is who. 
The gentleman with a funny hat on the left is clearly Black Manta, while the other gentleman with a funny hat on the right is most likely Raiden from Mortal Kombat. The rest of the lineup is tougher to nail down. Nerdist speculates that the lone female silhouette is Vixen or Lady Shiva. They also think the big fella next to Raiden could be Azrael, while the other two silhouettes are just too vague to tell. 
The trailer doesn't provide a price point or release date for the first DLC pack, but purchasing the $100 Ultimate Edition of the game will get you all of them. Injustice 2 launches on PS4, Xbox One and PC on Tuesday.
More gaming news and updates
Check out the latest from Mic, including our of video games that made funof their players, a personal essay about dealing with anxiety through Breath of the Wild, a look at the racist and sexist experiences in esports and a plea for better character customization options for black characters.