These teens took on Rep. Tom MacArthur's pre-existing conditions amendment at a town hall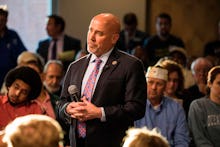 Rep. Tom MacArthur (R-N.J.) has been asked to defend his eponymous American Health Care Act amendment to some of his most formidable critics: teens.
During a nearly five-hour Wednesday night town hall, high school senior Joseph Zetkulic asked MacArthur about the amendment's policies on pre-existing conditions.
"How did it pass your conscience to allow rape to become a pre-existing condition?" Zetkulic asked, according to ThinkProgress. "Is rape considered a pre-existing condition under your amendment, yes or no?"
Apparently, MacArthur did his best to dodge the question, chalking up claims that sexual assault could be included among the AHCA's preexisting conditions to "hysteria." 
"Both the New York Times and the Washington Post have debunked that," he said to an increasingly angry town hall crowd.
Dissatisfied by this response, one of Zetkulic's classmates, Daisy Confoy, stood up to press the New Jersey representative further on the issue.
"I'd like to go back to a question that my friend Joey asked you, which you neglected to answer," Confoy told MacArthur. "Is rape considered a pre-existing condition under your amendment? Yes or no? Yes, or no? One word, please."
Despite several viral stories (including a corrected one at Mic) claiming that sexual assault would become a pre-existing condition under the GOP plan, as the Washington Post notes, the AHCA itself doesn't specifically list sexual assault among pre-existing conditions, nor does it say it would deny coverage to anyone because on pre-existing conditions. 
The Post also reports that most states have their own protections for domestic violence and sexual abuse survivors, and "even if AHCA became law as currently written, state law still determines what can and cannot be used for rating, according to the National Association of Insurance Commissioners." 
However, the MacArthur Meadow Amendment— which was absorbed into the AHCA's most recent revision — would allow states to waive the Affordable Care Act's federal-level protections for pre-existing conditions. Some of those pre-existing conditions include illnesses like HIV or post-traumatic stress disorder, health complications that can result from sexual assault.
MacArthur, though, said none of this. 
In the end, MacArthur told the crowd would never "reduce" sexual assault to a pre-existing condition, but reportedly failed to respond with any specifics about what his amendment has to say about it, leaving Zetfulic and Confoy frustrated and disappointed.
"I don't think anyone in the room is convinced by what he said," Confoy told ThinkProgress. "We're all on the same page."