'Pokémon Go' Anti-Cheating Update: Niantic job post causes excitement about cheat stopgaps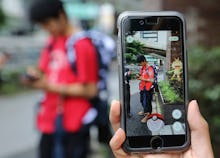 There's no shortage of apps and websites you can turn to if you want to try cheating in Pokémon Go. It's been an issue for a long time, and is likely to continue as such for the foreseeable future. 
However, a recent APK mine uncovered a new encounter fail code in the game's data. Fans are eager that Niantic might be taking steps to stop those individuals who aren't playing the game as it's intended.
Some fans are so hopeful, in fact, they're insisting a new Niantic job posting means the Pokémon Go developer is finally getting serious with anti-cheating measures.
Pokémon Go anti-cheating update: Machine learning engineer is shorthand for cheat management
In a Silph Road post, user ReBootYourMind laid out why they thought a current Niantic job posting for a machine learning engineer was industry shorthand for "designer of anti-cheating measures."
"Machine learning is the best tool to detect cheaters in [a] game this massive, and Niantic is looking for an expert in this field," they wrote. "One possible reason Niantic has not done much to fight the cheaters [is] that they lack the skill and/or resources to detect them from a dataset of this size."
But a number of posters argued this was making a pretty big leap. Although ReBootYourMind tried to sell the TL;DR ("too long; didn't read") of the position as an anti-cheating job, the actual text of the job description is a little too lean to effectively support that claim:
Leverage a dataset consisting of hundreds of millions of user actions a day to model, analyze and predict user behavior to not only create incredible gameplay experiences, but help people change their lives with games based in the real world.
With that in mind, other posters argued the evidence just wasn't really there to support ReBootYourMind's claim.
"It's true that machine learning can be used to detect cheaters — but that's far from being the only application," user Quallmiox wrote. "Another example where machine learning could be used is to adapt the game mechanics (e.g. Pokemon spawns) to the user data (where people commonly play) and much more. So while they might be searching for someone to detect cheaters, jumping to that conclusion is very far-fetched. 
We can hope Niantic is looking for ways to prevent future cheating, but it's still anyone's guess as to what shape that prevention might actually take.
More Pokémon Go guides, tips and tricks
If you're booting up the game for the first time in a while to get ready for Gen 2, be sure to check out Mic's guides on how to get stardust, how to determine how long it will take you to reach level 40, the kind of Pokémon you get from 10-kilometer eggs, how to create new PokéStops, how to maximize your chances of catching Pokémon and how PokéStops distribute Pokémon eggs. Also check out how to catch Gen 2 baby Pokémon, our analysis of post-balance update Chansey and Rhydon and everything you need to know about finding the long-awaited Pokémon Ditto.