Obscene photos of pig on top of Muslim man found in UNC-Charlotte campus residential halls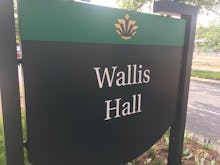 Administration officials at the University of North Carolina at Charlotte are investigating an incident involving a vulgar anti-Muslim cartoon posted in a residential hall on campus.
The cartoon depicted a pig performing a sexual act on top of a Muslim man, accompanied with the text "That's the way Allah Allah I like it," according to local news channel WSOC. 
WBTV News shared an image of the cartoon on Twitter: 
There are conflicting reports about the number of cartoons that were found in UNCC dorms. UNCC student body president Tracey Allsbrook and vice president Bryan McCollom released a statement on Wednesday claiming the image was found in two residential halls. But according to Buffie Stephens, UNCC associate director for media relations, the university is aware of only one incident involving the Islamophobic cartoon. She told the Charlotte Observer the photo was placed on the door of a four-person suite in Wallis Hall. No one living in the suite identifies as a Muslim.
"The investigation is ongoing and will result in student conduct charges for the individual(s) involved," Jaclyn A. Simpson, associate vice chancellor for Student Affairs and director of Housing and Residence Life, wrote in a letter to Wallis Hall residents, according to WSOC. Possible sanctions could include suspension from the university.
Several campus organizations announced their support for UNCC Muslim students in the wake of the events.
"We reject discrimination and/or bigotry being directed at anyone on the basis of their race, religion, sex, gender, disability and all other identities," Allsbrook and McCollom wrote. "We want to express our solidarity, especially with our Muslim student population who were targeted in the most recent of the two incidents."
The UNCC LGBTQ+ Staff and Faculty Caucus also released a statement declaring their support for Muslims on campus, according to WSOC.
"In light of a recent Islamophobic poster distributed at Wallis Hall, the LGBTQ+ Staff and Faculty Caucus are writing to reaffirm our support and commitment to all Muslim students at UNC Charlotte and everyone else who has been impacted by this hateful act," the statement read.
After the cartoon was discovered, members of the school's Muslim Students Association met with university administration officials, WSOC reported. The MSA has not responded to Mic's request for comment.
Anti-Muslim bias incidents have escalated since Donald Trump's victory in the 2016 presidential election. The Council of American-Islamic Relations national communications director Ibrahim Hooper said he believes the cartoons found at UNCC is a reflection of this trend.
"This sort of incident reflects the troubling rise in bigotry nationwide targeting American Muslims and other minority groups since the November election," Hooper told the Observer. "It is a disturbing trend that should be addressed by our nation's leaders as a threat to America's longstanding traditions of religious inclusion and ethnic diversity."