'Hollywood Medium with Tyler Henry' explores Whitney Houston's "heart issue"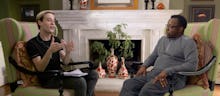 On the upcoming episode of Hollywood Medium with Tyler Henry, the clairvoyant host channels late singer Whitney Houston during a reading with singer Bobby Brown, her ex-husband. In the beginning of the episode preview, Henry says he feels a "woman coming through" who is describing a heart condition. Watch the video here.
And this is very clear in the way that this comes through, she's very insistent to acknowledge, no matter how I died, I need them to know the heart. I need them to know the heart...And there's a feeling of having a susceptibility to a heart arrhythmia and also having a susceptibility just to a heart issue.
Henry continues to interpret what the woman is explaining to him about the heart condition.
But I can distinctly tell there are other aspects to this passing. People talking about this or discussing this heart thing, but it's something else. It's like, or I die of something else or people think I die of something else ... And there's just an emphasis on basically saying like, "People don't know the full picture of how... to what extent this really affected me."
After clarifying these messages, Henry asks Brown if he had any conversations recently about heart conditions. Brown responds, "Yeah, my ex-wife."
Whitney Houston died on Feb. 11, 2012, at the age of 48 in a Beverly Hills, California, hotel. An autopsy report revealed the singer had atherosclerotic heart disease at the time of her drowning and that cocaine use also played a factor in her cause of death. 
The Bobby Brown and Whitney Houston episode of Hollywood Medium with Tyler Henry airs Wednesday, May 17, at 8 p.m. Eastern on E!
Mic has ongoing arts coverage. Please follow our arts hub here.