What does 'Injustice 2' Ultimate Edition come with? Everything included in the $100 package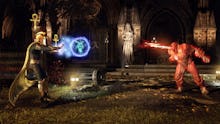 As is often the case with big budget video games, you can spend much more than the $60 asking price on Injustice 2. Of course, you'll get plenty of stuff alongside the game if you opt for the Ultimate Edition, but is it worth the extra cash?
What does Injustice 2 Ultimate Edition come with?
Per the official website, the most substantial in-game bonus you get with the $100 Injustice 2 Ultimate Edition is access to all nine DLC characters as soon as they're released. That includes Tamaran, Starfire and Mortal Kombat's Sub-Zero in the first pack, with six mystery combatants to come later. 
You'll also get "premiere skins" that transform the Flash, Green Lantern and Supergirl into different characters with new voices and dialogue while still playing the same. The last bonuses on the customization front are two gear shader packs that will change the color scheme of the unique gear you've gotten from playing the game. 
Lastly, it comes in a steel case and lets you play as Darkseid, a bonus that also comes if you pre-order the regular version of the game. If you pre-order from Amazon, you can get a "Supergirl Origins" comic, too. There aren't any crazy statuettes or tote bags with the Ultimate Edition, but for $100, it's probably enough for dedicated fans.
More gaming news and updates
Check out the latest from Mic, including our roundup of video games that made fun of their players, a personal essay about dealing with anxiety through Breath of the Wild, a look at the racist and sexist experiences in esports and a plea for better character customization options for black characters.