Ebola Outbreak DRC: WHO confirms at least 1 death in Democratic Republic of Congo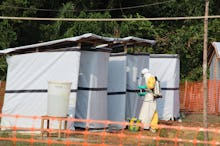 The Ebola virus has killed at least one person in the Democratic Republic of Congo in what officials are describing as an "epidemic," the World Health Organization announced Friday. 
It was one of three deaths and nine suspected cases reported in the country since April 22, WHO communications officer Christoper Lindmeier told HuffPost. 
The WHO confirmed one of the deaths as a case of Ebola in a lab in Kinshasa, the DRC's largest city.
Dr. Oly Ilunga Kalenga, minister of public health in the DRC, said in a statement that the outbreak occurred in the Bas-Uélé province in the northern part of the country. 
Dr. Yokouidé Allarangar, the WHO representative in the DRC, said in the same statement that the organization is helping to coordinate the deployment of health workers to control the outbreak. WHO Regional Director for Africa Dr. Matshidiso Moeti is expected in Kinshasa this weekend to help coordinate the response. 
In 2014, 49 people died in an Ebola outbreak in the country, according to the Centers for Disease Control and Prevention. An unrelated outbreak in West Africa killed over 11,300 people between 2014 and 2016. Nearly 29,000 total cases, 15,000 of which were confirmed in a lab, were reported in Sierra Leone, Liberia and Guinea in what was the deadliest outbreak of the disease in history. 
The Ebola virus is an infectious hemorrhagic fever first discovered in 1976. In December, an experimental vaccine was found to be effective against two common strains of the disease and could be available by 2018 after being fast-tracked for regulatory approval.
According to the WHO statement, the "confirmed epidemic" is the country's eighth since 1976.
The WHO said on Friday that it is supporting the DRC's Ministry of Health in its response to the outbreak of the deadly virus.