'Alan Wake': Steam knocks 90% off the price before Remedy game is removed from circulation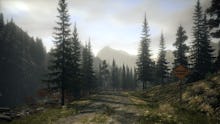 Alan Wake is one of those stories that needs games. It was one of my favorite games of 2010 and was the subject of my first Let's Play. Unfortunately, Alan Wake is being sunset from Steam as of May 15 due to the sad reality of music licensing. 
Starting on May 13, Alan Wake will be at a 90% discount on Steam, including its DLC, American Nightmare. If you somehow missed out on this Remedy gem from the last generation, it's your last chance to get it before it's removed from circulation. 
If you're looking for an updated Alan Wake experience minus the scary monsters and writer-induced ennui, Remedy's latest release, Quantum Break, is currently available for Xbox One and Windows. And while I know that I may never see another Alan Wake game, a girl can dream.
More gaming news and updates
Check out the latest from Mic, including our roundup of video games that made fun of their players, a personal essay about dealing with anxiety through Breath of the Wild, a look at the racist and sexist experiences in esports and a plea for better character customization options for black characters.