Report: An airline made 2 Muslim men deboard a plane and go through airport security all over again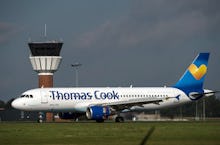 According to a report in the Manchester Evening News, a Thomas Cook Airlines flight headed from Izmir, Turkey, to Manchester, England, was delayed for nearly 90 minutes after the crew made two Muslim men disembark and go through airport security for a second time. The incident occurred after fellow passengers complained the men appeared to be "making gestures" onboard.
The incident is the latest in a spate of airlines making international headlines for all the wrong reasons — a trend that began with a disturbing, widely circulated video showing airport security forcibly removing Dr. David Dao from a United Airlines flight after refusing to surrender his paid seat to make room for United's staff.
The Evening News said two women on the Thomas Cook flight sought the aid of flight attendants after claiming to witness two men making phone calls in the bathroom and "signaling to each other" as the plane prepared for takeoff. They also accused the men of having somehow bypassed airport security.
The cabin crew asked the two men to return to airport security. The passengers willingly complied and were eventually given the all-clear to reboard the plane. But that wasn't enough for their accusers, who, upon learning the men were allowed back on the plane, "refused to travel with them, instead choosing to return to the terminal," according to the Evening News.
One passenger on the flight described the baseless accusations and subsequent investigation as "an embarrassment." 
"Two innocent Muslim men were marched off plane and searched as two English ladies refused to fly with them on plane," the unnamed passenger told the Evening News. "The result was a delay for everyone, and the men flew while the women were left behind."
In a statement, a spokesman for Thomas Cook Airlines apologized to the men.
"Two customers on this flight were asked to go through security a second time as a precaution, after unverified concerns were raised that the initial airport security check had missed them out," the spokesman said. "We'd like to thank these two customers for their patience and apologize for any inconvenience."