6 things you may have missed in the 'Love Actually' Red Nose Day trailer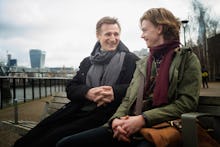 Whether you loved or hated Love Actually, it's impossible to deny its perennial relevance. When NBC announced it would air a short sequel as part of its Red Nose Day Special — an event to raise awareness of children living in poverty — the excitement among fans was palpable. Read on to learn what we discovered from the most recent trailer for Red Nose Day Actually, which takes place 13 years after the original movie's events.
1. We're still in London.
Judging by the landmarks in the trailer, our favorite characters are still looking for love in London. Among the Love Actually stars returning to the city are Liam Neeson, Hugh Grant, Keira Knightley, Chiwetel Ejiofor, Andrew Lincoln, Colin Firth, Bill Nighy and Rowan Atkinson. There's plenty of fan service here, with a bearded Andrew Lincoln holding up cue cards for Keira Knightley and Hugh Grant's prime minister dancing goofily and living with Natalie. 
2. Sam's all grown up.
Remember Sam, the adorable lovesick kid who chased Joanna through the airport? The internet had a near-meltdown when it realized he was all grown up and playing Jojen Reed on Game of Thrones — and sure enough, he's back as an adult on Red Nose Day Actually, too. We don't see his old crush in the trailer, but an Instagram post from Emma Freud, the film's director, shows us a glimpse of grown-up Joanna. 
3. Laura Linney is back!
Laura Linney makes a very brief appearance in the trailer — but where's Karl, the man who sent her into a tizzy on the stairs? Did he run off after she took that call?
4. Where's Colin?
Colin seemed to have a happily-ever-after moment when he ended the film surrounded by hot American women — a dream come true for a man who visited America via "shag highway, headed west." Where is he these days? Did he marry that cowgirl played by Shannon Elizabeth? Or did he end up settling down with a fellow Londoner?
5. Rowan Atkinson's character works at Walgreens.
As part of an actual tie-in with Red Nose Day, which sees Walgreens and Duane Reade stores selling red noses to raise money for the fundraiser's parent charity organization Comic Relief Inc., Atkinson is now working — and holding up lines — at Walgreens.
6. There are no porn stars.
Martin Freeman's character found love in a hopeless place — on the set of an adult film — before tentatively pursuing a relationship with his costar. Freeman is not confirmed to return in the sequel, so we can only hope the two actors got married and retired from porn. 
Check out the new trailer below:
Red Nose Day Actually airs May 25 on NBC.
Mic has ongoing Love Actually coverage. Please follow our main Love Actually hub here.