Chelsea Manning's story doesn't end with release from prison — it's only just beginning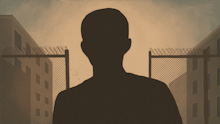 Chelsea Manning exerts tremendous energy just to speak and to be heard.
Without access to a computer in prison, she composes tweets by calling friends at home, dictating and hoping they hear her correctly. She doesn't see those tweets before they're sent, and she can't delete them if they're wrong. To write for the Guardian or Medium, she can research topics in the library, but she generally relies on others with internet access to verify the data. Almost nothing that we know of Manning has come directly from her mouth or been typed by her hand.
That may change after Wednesday, when Manning is released after serving about seven years in men's-only detention facilities. For Manning, the already difficult process of re-entry into society will be even further complicated by the harsh light of international attention, an ongoing appeal of her conviction and the reality of living in the outside world as an out transgender woman for the first time.
Manning was convicted in 2013 on charges related to leaking government information to WikiLeaks and was sentenced to 35 years in prison. In January, then-President Barack Obama commuted her sentence.
Re-entry forces a former prisoner to transition from the traumatizing, often-violent reality of prison to the overwhelming outside world, usually without much aid. The difficulty of adjusting after serving time has enough common effects that some mental health providers have come to call a particular cluster of symptoms "post-incarceration syndrome." Common symptoms, according to a 2013 article published in the International Journal of Law and Psychiatry, include post-traumatic stress disorder, social-sensory disorientation and alienation.
"Being returned to the community doesn't mean you're automatically going to be the person that you were before," Amy Fettig, deputy director of the National Prison Project at the American Civil Liberties Union, said in a phone interview. "You're going to have very basic needs that need to be filled before you can think about filling out out a resume and going on a job hunt."
Jason Lydon, founder and national director of LGBTQ prisoner advocacy group Black and Pink, said Manning's mental health and well-being are of the utmost importance, including time to explore her gender identity and transition process.
As a transgender woman in men's prison facilities, Manning was deprived of the space to explore her gender expression. Forced to cut her hair to the designated length for male soldiers, Manning has been unable to grow the long locks that she feels would best suit her, according to Evan Greer, a campaign director for Fight for the Future and a confidante of Manning's.
Those who spoke to Mic said the freedom Manning will soon have can be liberating — but also overwhelming.
"She's building a life from scratch," Chase Strangio, Manning's lawyer at the ACLU, said in a phone interview. Strangio said that Manning will have to relearn small tasks, like cooking for herself and doing laundry, while also facing larger hurdles like building up her credit score and getting identification documents under her new name.
She will also face questions about what to wear and how to present herself for the first time in her adult life. Many people speak about Manning without knowing what she looks like, aside from a grainy black-and-white photo that accompanies most headlines about her.
Greer, who has a weekly call with Manning, said she is still unsure what Manning looks like. That, Greer said, can alter people's perception of the already-misunderstood person at the center of an international scandal.
"Chelsea has been robbed of that right to have any semblance of control over her image," Greer said. "I can say myself, as a trans person, those basic things like how I wear my hair and how I present myself are a huge part of how I define myself."
Likewise, those who know 29-year-old Manning hope she is able to use the time after her release to find out who she is as a person. Manning has spent the better part of her adult life either in the military or in prison.
"She wants to be a young person in the world," Strangio said. "She has every right to experience some of her young adult life and listen to music and eat pizza and make new friends and meet a trans community that she hasn't really had a chance to ever meet in person."
During her time in prison, Strangio said, Manning was only allowed visits from her legal team and people whom she knew prior to her incarceration. Strangio and Greer, who are both transgender, are two of the few trans people Manning has had extensive conversations with.
Manning also faces the obstacle of having had massive media attention focused on her for most of a decade. Search "Chelsea Manning" and Google returns millions of results in under a second. Many focus on the doom and gloom of Manning's incarceration: her fight for hormone therapy as part of medical care, her experience in solitary confinement, her suicide attempts.
Strangio called these stories "simplistic" and said they don't reflect Manning's full personhood. Those who spoke about Manning described her as "hilarious," "passionate," "compassionate," "charismatic," "brilliant" — and "misunderstood."
Greer has had regular phone conversations with Manning since around 2014, when she received an email saying Manning would like to speak with her on the phone. The two discuss politics, science fiction and makeup. Greer learned that Manning gathered with other prisoners to play Dungeons and Dragons. She briefly played an instrument in a band. And, of course, she wrote her Guardian columns.
"It puts me to shame as an activist, really, when I see what she's been able to get done under such extreme restrictions on her ability to speak freely," Greer said.
Manning has spent about 11 cumulative months in solitary confinement, a common experience for transgender inmates. According to a 2015 Black and Pink report, 85% of LGBTQ prisoners said they had experienced solitary confinement during their incarceration. Among trans women, 77% said they were placed in solitary for safety reasons, though just 11% said they had only been placed in solitary after specifically requesting to be removed from the general prison population.
"It damages people, and it's torture," Fettig said. "People are released directly to the streets from solitary confinement, having had no real contact with human beings for weeks, months, years, even decades."
Those psychological scars don't automatically heal once a person leaves prison. Lydon warned that potential triggers abound in real life for many newly released prisoners. Being followed too closely in a grocery store can trigger negative memories. The jingle of a keychain may sound like a guard's keys. Nightmares of being incarcerated again are also common.
"We expect people to be ready to jump right in without having the time to still be broken," Lydon said. "I'm hopeful for her that she will be able to take the time that she needs."
Part of the difficulty of re-entry, Strangio said, is that prisoners often don't know what their needs are until they are released. Though Manning has notoriety, she doesn't have the economic benefits of fame. To help give Manning space to heal, Strangio has collected funds through a GoFundMe, and by Tuesday evening it had reached about $144,500 of its $150,000 goal. Strangio also said Manning has a place to stay when she is released.
Some uncertainty looms in Manning's life. Her sentence was commuted, but she has not been pardoned, and the appeal on her conviction is still ongoing. Convicted in an Army court-martial, Manning is now bringing her case to the Army Court of Criminal Appeals. Should Manning lose her appeal, according to her appeals lawyer, Nancy Hollander, she'll be dishonorably discharged and unable to receive free health care through Veterans Affairs. Hollander also said she would be considered a felon, severely impairing her ability to obtain employment.
Despite the looming uncertainties, members of Manning's inner circle are excited at the prospect of Manning being able to make choices for herself.
"She's going to be able to be the agent of her own story," Strangio said. "She gets to be a full human being, and that's going to be very cool and exciting."