'Better Call Saul' season 3, episode 6 introduces Saul Goodman — but there's a catch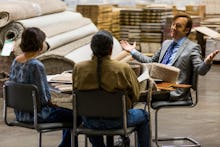 As viewers might have surmised after Chuck's catastrophic courtroom meltdown last week, Jimmy has a much lighter sentence on his hands in the sixth episode of Better Call Saul's third season, "Off Brand." But despite Jimmy ending up the winner of this sibling spat, he's still dealing with some comeuppance for tampering with evidence in the Mesa Verde case. 
No, Jimmy's not been disbarred — but he can't practice law for an entire year. That means his fledgling, shared law office with Kim is in jeopardy. As Kim rightly points out, she doesn't need that much space for herself, and they can't afford to keep their new secretary Francesca. Plus, Jimmy would be broke splitting rent (and Francesca's salary) every month without a steady source of income. But Jimmy presents Kim with a proposal: Let them keep the office, so long as he can afford it, and whenever he can't, they'll jump ship. 
Kim agrees, and Jimmy has a plan: He's going to become Saul Goodman. This is pretty big news — one of the big draws of Better Call Saul is learning how Jimmy became the sketchy lawyer the criminal underbelly of Albuquerque, New Mexico, could steadily rely on. 
I should warn you, however, there's a catch. 
Jimmy's already concerned about money, what with the one-year hiatus from his law practice that will likely mean he loses a good chunk of his clientele. But to make matters worse, he still has $4,000 worth of advertising over nine different TV slots. Because of his court ruling, he's not allowed to promote his business anymore, meaning he has to pull the ads off the air and take the financial loss — unless he's able to sell his advertising space to other businesses. 
So no, he's no longer a lawyer: He's a dude selling commercial slots on TV, and you can call him Saul Goodman.
Technically, Jimmy's abiding by the court ruling here. He's not a lawyer, but it is admittedly sketchy that he's not using his real name for the business. Plus, in the commercial for the new commercial-selling business, he's sporting an unconvincing disguise that would make our Russian comrades on The Americans proud. Still, there you have it: Jimmy is using the name Saul Goodman for the first time since his Slippin' Jimmy days. 
"It's just a name," he reassures Kim, who is rather impressed with the bombastic persona. 
Obviously, this isn't the Saul Goodman we know (and, um, love?) from Breaking Bad, but it's pretty telling. To use a fitting metaphor for the parent show, Saul Goodman, the commercial guy, feels like a gateway drug for Jimmy's eventual transformation into Saul Goodman, attorney at law. We've seen how easily Jimmy can be tempted by his worst vices, going back to his childhood. An extended stay as Saul Goodman could very well mean that, once Jimmy's allowed to practice law again, he may stick with the name and the new practice. 
I mean, it's inevitable: Showrunners Vince Gilligan and Peter Gould have already said they initially planned to introduce Saul Goodman at the end of season one, but it's clear they're having fun with Jimmy McGill, hence the stall. I don't blame them, and it was to Better Call Saul's advantage that we learned so much about his former life as Jimmy with his spiteful brother, morally conflicted love interest and begrudging and blossoming bromance with Mike Ehrmantraut.  
But the first tangible sight of Saul Goodman is a reminder of where all this is headed. We do know how Better Call Saul will end for its principal characters — Jimmy, Mike and Gus Fring have impenetrable plot armor, because it's a prequel — while less certain are the fates of non-Breaking Bad characters Chuck and Kim. 
Should we be mindful that things on the series might descend into chaos pretty quickly? Nah, s'all good, man. 
Better Call Saul airs Mondays at 10 p.m. Eastern on AMC. 
Mic has ongoing coverage of Better Call Saul. Follow our main Better Call Saul hub here.