'Mario Kart 8 Deluxe' Shortcuts: The time savers in 'MK8' that can help get unlockables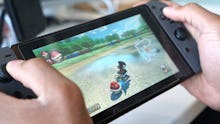 In Mario Kart 8 Deluxe you don't always have to be the fastest to win. Sometimes you just have to know the shortest route to your destination. Using Mario Kart 8 Deluxe shortcuts will get you completing laps faster than your opponents. This means that even when your enemies have a ton of coins or are outsmarting blue shells, you can at least fly in from out of nowhere and laugh devilishly as you steal first. 
Mario Kart 8 Deluxe shortcuts: The best pathways that don't require a mushroom
The number of opportunities to skip over some track in MK8 are countless if you're packing the right equipment. With a mushroom in tow, many turns become skippable by driving over grass or other rough terrain. But even when you're without a boost, there are hidden pathways available to you in the latest Mario Kart.
Toad Harbor
If you're driving in Toad Harbor, make sure to take the ramp going upward after the first few turns. It will lead to a road behind a building, but not before zipping you along with a boost pad.
Cloudtop Cruise
You'll be living life on cloud nine once you fall in love with Cloudtop Cruise's shortcuts. The leaves near the finish line give you the perfect opportunity to get the jump on your enemies while their heads are in the clouds. How often can you snag first with a last-minute shortcut? The sky's the limit.
Dolphin Shoals
Whet your appetite for sick shortcuts with these Dolphin Shoals routes. Staying close to the edges will put you leagues ahead of your opponents.
Ribbon Road
Stop toying around and use these shortcuts to fly your way to victory. No mushrooms mean you can use these whenever you'd like. Play time is over. 
DK Jungle
Stop monkeying around and get that first place already. Turning earlier than you should offers some benefit in this level. Jump over the person in second to snag first and watch them go apespit.
Music Park
Shortcuts are music to our ears, especially in this level. The giant white bongo before the finish line will save you half a second. Beat your opponents like a drum.
Tick Tock Clock
Isn't it about time you took a shortcut? Let the clock's minute and hour hands shave a few seconds off your race.
Wario's Gold Mine 
There are more than a few hidden treasures in Wario's level. Strike gold by veering off to the left when you're in the tunnel. Claim first like you're trying to beat the gold rush.
Ice Ice Outpost 
Give your opponents the cold shoulder by forgoing the track altogether: Slip into the side route and slide into first. What's cooler than getting the gold?
Rainbow Road
Jumping the track will ensure you pass this final Mario Kart test with flying colors. The other racers will hate you, but show some love to the level's shortcuts. In the end, love wins. 
Check out more Mario Kart 8 Deluxe news, tips and tricks
If you're anxious to get racing in Mario Kart 8 Deluxe, check out our video gameplay of the first 20 minutes of the game and find out the eight characters the game needs ASAP. Check out the best techniques to race with and learn how you can buy the game bundled with the console, including one bundle from Nintendo. Find out if we're expecting DLC and our initial impressions of the new console it's on from back in January. Or you can play Mario Kart 64 on a newer console instead, if you're looking for some nostalgic throwback. And when all else fails, back that thang up.