'Dishonored 2' DLC: Potential DLC hinted at on Amazon novel listing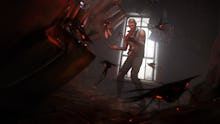 Dishonored 2 may not have sold quite like its predecessor, but the first-person magical stealth game might still get some post-launch support after all.
Amazon novel listing hints at existence of Dishonored 2 DLC
Some intrepid Reddit investigators found an Amazon page for an untitled third Dishonored 2 novel from author Adam Christopher. The incriminating detail is in the short product description:
The official sequel to the new video game Dishonored 2, picking up the adventure where the game left off and weaving into the additional digital content the game studio will continue to release for a year after the game's release.
Unfortunately, that's all we get. No information about what actually happens in the novel's story or what the DLC could be about. Of course, that also means there's no release date for it, either. We might have to wait until Bethesda's E3 press conference in June to hear more, at the earliest.
The first Dishonored, for reference, got three DLC packs of varying substance. "Dunwall City Trials" was a collection of challenge courses, while "The Brigmore Witches" and "The Knife of Dunwall" both served to set up Delilah Copperspoon, who would go on to be the villain of Dishonored 2. Six months after the release of Dishonored 2, we have yet to hear any details about DLC.
Still, it seems like it might still be coming. Maybe we'll all find out together at E3. 
More gaming news and updates
Check out the latest from Mic, including our roundup of video games that made fun of their players, a personal essay about dealing with anxiety through Breath of the Wild, a look at the racist and sexist experiences in esports and a plea for better character customization options for black characters.