Kirkersville, Ohio, Shooting: Latest updates on deadly incident at Pine Kirk Care Center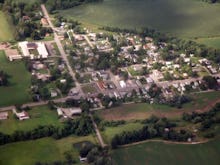 Four people were killed in a shooting Friday morning at a Kirkersville, Ohio, nursing home, including local police Chief Steven Disario, the Columbus Dispatch reported.
Disario was shot at the Pine Kirk Care Center, where he was responding to a report of a man with a gun. The police chief, who had only been chief for about three weeks, arrived at the nursing home shortly before 8 a.m., the Dispatch noted.
"I can only assume he engaged the subject," Licking County Sheriff Randy Thorp said about Disario, 10TV reported. "I don't know if there was an exchange of gunfire."
The other victims in the shooting are reported to be two of the facility's employees, along with the shooter. Though 23 of the nursing home's residents were at the facility during the incident, 10TV reported, none were reported injured in the shooting.
"I heard the first shot. I thought it was a tire blown out," local business owner Kathy Rogers told WOSU Public Media. "I went back in the house, and I heard another one, and that's all I know. Then I heard sirens. It got crazy."
The Pine Kirk nursing home, the Dispatch reported, is a 24-bed facility that serves people with both physical and behavioral health challenges. The facility is open to the public, the Dispatch noted, so family and friends can visit the residents, though WOSU reported the shooter would have had to have someone let them into the facility or have an access code to enter.
The nursing home's residents have been transferred to local hospitals, WOSU reported, and Kirkersville Elementary School was placed on lockdown in response to the shooting.