EPA adviser who quit in protest says Trump admin. has subcommittee on "firing line"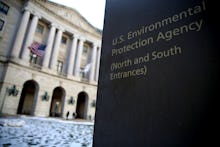 Two Environmental Protection Agency advisers resigned in protest Friday after the Trump administration removed their committee's co-chairs this week.
Carlos Martín and Peter Meyer, advisers to the EPA's Sustainable and Healthy Communities subcommittee, wrote in a joint letter posted to Twitter that they could not be "complicit" in the removal of committee co-chairs Courtney Flint and Robert Richardson — or what they called the "watering down of credible science."
"Without reservation, we view [Flint and Richardson] as leading scholars in this multidisciplinary field and capable leaders for our group," Martín and Meyer wrote. "It has been an honor to serve with them, and a shock to witness the refusal of EPA officials to renew their positions. It is a shock from which we cannot easily recover nor which we readily accept."
The resignations are effective immediately.
The SHC subcommittee is part of the Board of Scientific Counselors, which advises the EPA Office of Research and Development on the "technical and management issues of its research programs." EPA Administrator Scott Pruitt initiated an overhaul of the key review board this week in what EPA spokesman J.P. Freire told the Washington Post was "a clean break with the last administration's approach."
Richardson and Flint told the Post they were both surprisedto not be renewed as committee co-chairs, as they had been informed they were likely to be kept on. 
Flint is a professor of natural resource sociology at Utah State University. Richardson is an ecological economist and an associate professor in Michigan State University's Department of Community Sustainability. After he was removed, he tweeted that he had been "Trumped."
In an email, Richardson told Mic that Martín and Meyer notified him and Flint of their coming resignations before they told EPA officials.
"While I am certain that their valuable contributions to the Board of Scientific Counselors will be greatly missed, I understand their motivations and I respect their decisions," Richardson said.
In an interview with Mic, Meyer said the removal of Flint and Richardson shows that the Trump administration plans to take the committee in a new direction — or even "abolish" it entirely.
"You don't remove the leadership of a committee that's functioning very well, which it has been, unless you don't like what that committee does," Meyer said by phone. 
Meyer predicted that no current members of the subcommittee would be renewed and said he told them, in an email announcing his resignation, that he believes all the members are "on the firing line."
According to Meyer, his subcommittee helped the EPA to run as "effectively and efficiently" as possible — and eliminating the committee or diluting its work would "weaken" the EPA as a whole. As leaders of the subcommittee, the advisers' work depended on placing "trust" in Flint and Richardson. 
"I'm not sure I would trust the new co-chairs," Meyer said, suggesting any replacements brought on by the administration may devalue the committee's work. 
The committee members will know by Aug. 30 if they are being renewed. Meyer said he is not sure if any other members are planning on resigning, but that one has introduced a draft of a potential op-ed to other advisers.
According to the Post, the shake-up represents the "first step in a broader effort by Republicans to change the way the federal government evaluates the scientific basis for its regulations."
President Donald Trump has proposed dramatic cuts to the EPA as part of his so-called "skinny budget," which would slash roughly $100 million from research and programs addressing climate change. In addition to installing Pruitt — a fellow climate change doubter — as EPA head, Trump has reversed Obama-era environmental measures. 
His administration's environmental and scientific policies have been the subject of two massive protests in April — the March for Science and the People's Climate March.
Martín posted the resignation letter to Twitter on Friday with the hashtag #standupforscience.