Islamophobic smear campaign targets Muslim and Jewish activists' homes in NYC, Bay Area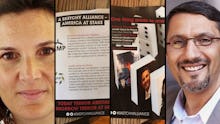 The homes of two prominent advocates for Palestinian civil rights — a Jewish woman and a Muslim man — were targeted by an Islamophobic smear campaign Thursday.
Rebecca Vilkomerson, executive director for Jewish Voice for Peace, and Hatem Bazian, chairman of American Muslims for Palestine, found several hundred copies of a flyer falsely accusing them of supporting terrorism on telephone poles, car windows, bus stops and front porches in their neighborhoods in New York City and the San Francisco Bay area, they said.
JVP is a progressive organization dedicated to anti-bigotry efforts and equitably resolving the Israeli-Palestinian conflict. American Muslims for Palestine is a national grassroots organization focused on educating Americans about Palestinian history, culture and religion.
Below is a photo of the flyer, posted by Vilkomerson on Twitter Thursday.
"Yesterday my home [and Hatem Bazian's] home [and] other [neighbors'] were blanketed by these cowardly and Islamophobic flyers," she wrote in the caption. 
The hashtag #SketchyAlliance and photos of Vilkomerson and Bazian were both featured prominently on the flyers.
"One thing leads to another," the text reads. "Rebecca Vilkomerson [JVP] executive director supports Hatem Bazian [AMP] chairman. He supports terror. Who do you support?"  
It remains unclear if the flyers were posted by an individual, a hate group or some other entity. The #SketchyAlliance hashtag on Twitter features anti-Arab and anti-Muslim posts accusing Muslim civil rights activists of being supporters of terrorism. The hashtag has very little reach, with only 17 tweets at the time of publication. 
Bazian is also a lecturer at the University of California at Berkeley's Department of Near Eastern and Asian American and Asia Diaspora Studies. In 2009, he founded the university's Center for Study and Documentation of Islamophobia, a campus research program dedicated to monitoring and analyzing trends of anti-Muslim hate in the United States. 
Bazian did not respond to Mic's request for comment. 
Vikomerson said in an email that she first learned about the flyers when a neighbor called her. She said hundreds were found on her block and two more blocks in the neighborhood, specifically targeting her home. 
"My neighbor and husband went out to collect [the flyers]," Vilkomerson said. "There were [maybe] dozens of them, if not hundreds, and my husband was very concerned that my daughters did not [see] them. So, they went out to get them all, but even later, I found one on my way home."
Vilkomerson said the flyers were also found in Bazian's home neighborhood in the same manner, as well as Los Angeles and another New York City neighborhood. While she is unsure who is behind the smear campaign, she said it appears to be "well-coordinated." 
JVP and AMP released a joint public statement on Thursday, calling the flyers an attempt to intimidate their victims and smear pro-Palestine social justice activists by calling them supporters of terrorism.
"Our two organizations represent a hopeful future horizon for Jewish-Muslim partnerships grounded in social justice, deeper understanding and opposition to all forms of racism," the statement read. "We know that this attack is but the longest in a long history of Islamophobic conspiracy theories that attempt to link Islam with terrorism." 
Vilkomerson said the flyers are a clear sign of desperation from their opponents. 
"[The flyers] are anonymous," she said. "They're stooping really, really low."  
Neither Vilkomerson nor other advocates for Palestinian civil rights are intimidated by this attempt, she said. And she remains hopeful about the growing trend of progressives, Democrats and students becoming more vocal in their opposition to the U.S. involvement in the occupation of Palestine. 
"We don't feel intimidated," she added. "This feels like an indication that we are winning, with more and more students, Democrats, progressives openly criticizing both our country's financial support to Israel, illegal occupation and ongoing apartheid in Israel [and] Palestine."