Katy Perry and Migos cook the rich in their "Bon Appétit" video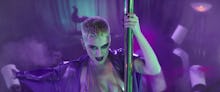 Two weeks ago, Katy Perry and Migos released their latest single, "Bon Appétit," yet another entry in the lengthy catalog of pop songs with food-based sexual innuendos. Ever the literalist, Perry released a video for the song on Friday, singing about being "on the menu," while getting floured and boiled by a bevy of chefs serving a group of wealthy, adventurous eaters.
But just as the gastronomic elite are about to dig in on the pop star, Migos turn the tables. The Culture rappers flip a hidden lever, and suddenly ropes spring around the diners' chairs, tying them up. Immediately, the chefs start prepping the guests to be turned into a bourgeoisie cherry pie, much to Perry's glee.
Viewed from one angle, the song marks a second piece of vague political commentary nestled in the rollout of Perry's upcoming fourth studio album. It follows "Chained to the Rhythm," which came with a Brave New World-esque video, critiquing the West's culture of passive consumption. She performed the song live at the BRIT Awards with massive skeletons of U.K. Prime Minister Theresa May and President Donald Trump dancing over a miniature city.
"Bon Appétit" presents a similar indictment of runaway capitalism and the aimless hungers it inspires. The video is also the latest proof that there's indeed a cannibal craze sweeping pop culture right now, as seen in movies like Raw and The Lure, as well as the Netflix series Santa Clarita Diet.
Watch the full video below.
Mic has ongoing music coverage. Follow our main music hub here.