People are hiding Sean Spicer cutouts "among" their bushes in the best meme of the week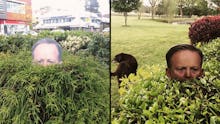 Few moments from the ongoing fallout surrounding Donald Trump's abrupt firing of FBI Director James Comey offered more comic relief this week than press secretary Sean Spicer's reported haphazard attempt to give reporters the slip on the White House grounds by hiding "among" the bushes. 
It spawned the best meme of the week, giving Twitter an easy shot at Trump's talking head. It's not every day the spiciest man in political press relations backs himself into to such an irresistibly meme-able corner.
But why keep the fun to just the internet? One handy arts and crafts wiz, Lisa Kadonaga, on Facebook is helping to bring the Spicer imagery into the real world, creating cut-out lawn ornaments of the press secretary for fans to hide among their bushes. She calls it the "Garden Spicer."
Kadonaga included pictures of her Spicers poking their immaculately parted hair out of some shubbery.
"Now you too can have the White House press secretary in — or rather, 'among' — the bushes in your yard," she wrote in her post, warning those looking to make their own that they're not entirely weatherproof. "And hey, if you're concerned that when exposed to the outdoors, the image will run — no worries, that's exactly what Sean Spicer does, so it's totally authentic!"
They've already started to multiply:
Mic has reached out to Kadonaga for comment. We'll update if we hear back.