Historically black college cancels Republican Senator John Cornyn's speech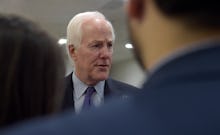 Two days after U.S. Education Secretary Betsy DeVos was booed during a commencement speech at Bethune-Cookman University, another historically black college, Texas Southern University, has canceled a similar speech from another member of Trump's constituency, Senate majority whip John Cornyn.
In response to a student-penned Change.org petition, the school's administration called off the Republican senator's appearance at Saturday's graduation to ensure the ceremony "would be remembered for the right reasons," Reuters reported Friday. 
The petition, which took issue with Cornyn's support of DeVos and Attorney General Jeff Sessions as evidence the senator supports "discriminatory policies and politicians," received more than 800 signatures. 
Saturday's graduating class contains 1100 students.
In addition to Cornyn's support of Donald Trump's picks for attorney general and education secretary, the petition cites aspects of the senator's voting record as reasons he's not fit to speak at the school. He voted no on offering federal funds for declared "sanctuary cities"; yes on a constitutional ban of same-sex marriage; and yes on requiring photo ID to vote in federal elections.
"Having a politician such as him speak at our institution is an insult to the students, to TSU, and to all [Historically black colleges and universities]," the petition reads. "This is our graduation. We have the right to decide if we want to refuse to sit and listen to the words of a politician who chooses to use his political power in ways that continually harm marginalized and oppressed people."
The school has invited Cornyn to meet with students at a later date and in an email to Reuters, a spokeswoman for Cornyn said he "respects the administration's decision and looks forward to continuing to engage with the university in the future."
Both Cornyn's cancellation and DeVos' booing, which inspired more than 200 black college professors to write an open "love letter" to the students who raised their voices, follow Trump's May 5 assertion that federal funding for historically black education institutions may be unconstitutional. 
Cheryl Smith, senior vice president of public policy and government affairs at the United Negro College Fund, which advocates for private HBCUs, told Politico that the organization is "puzzled by this provision" and is currently "seeking clarification from the White House as to its meaning."