Michelle Obama slams Trump for nixing healthy school lunches: "What is wrong with you?"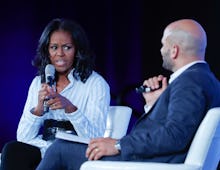 At a public health summit Friday in Washington, D.C., former first lady Michelle Obama slammed the Trump administration for its relaxing of school lunch policies she championed during her time in the White House, the Washington Post reported.
"We gotta make sure we don't let anybody take us back," Obama said. "This is where you really have to look at motives, you know. You have to stop and think, why don't you want our kids to have good food at school? What is wrong with you? And why is that a partisan issue? Why would that be political? What is going on?" 
Earlier in May, agriculture secretary Sonny Perdue announced that schools would not have to comply with standards set in place by the Obama administration to reduce sodium intake among students, as well as provide whole-grain rich breads and pastas and fat-free milk only. Rather than replacing these guidelines, Perdue gave schools three extra years to comply with them. 
According to the Washington Post, Obama made only veiled references to Trump during the talk. 
"Think about why someone is OK with your kids eating crap," Obama said. "Why would you celebrate that? Why would you sit idly and be okay with that? Because here's the secret: If someone is doing that, they don't care about your kid."
In his announcement of the program, Perdue claimed children did not like the food being offered under the new regulations and were tossing their meals in the trash, the Washington Post reported. 
Obama disagreed with Perdue's reasoning for relaxing the rules. 
"That to me is one of the most ridiculous things that we talk about in this movement — 'the kids aren't happy,'" Obama said. "Well you know what? Kids don't like math either. What are we gonna do, stop teaching math?"
The Department of Agriculture declined to comment on Obama's remarks to the Post, but a spokesperson did say that "Sec. Perdue has nothing but the utmost respect for Michelle Obama."
Finally, Obama laid out what could happen if parents are not vigilant of what the government allows to land on their children's plates. 
"You take your eye off the ball on things, you let other people determine what you're eating, what you're feeding, how you're moving — and before you know it your kids have type 2 diabetes and you're confused and shocked and hurt," Obama said.
In a dig to the Trump administration's repeated attempts to repeal her husband's landmark legislation, she added, "I hope you have health care."