Teacher pens letter to school paper, quotes Bible verse saying gay people "deserve to die"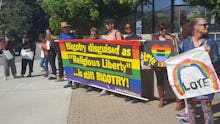 A special education teacher at San Luis Obispo High School in San Luis Obispo, California, has resigned amid protests and outrage over a letter he penned to the student newspaper citing a Bible passage saying those who commit homosexual acts "deserve to die," the San Luis Obispo Tribune reported.
Michael Stack wrote the letter in the student paper Expressions in response to a recent edition that dealt with LGBTQ issues. After the letter appeared on May 9, Stack did not show up for work on May 11. According to the Tribune, he resigned via an email sent at 1:07 p.m. Fox News was copied on the email. 
The Tribune reported prior to Stack's resignation that the school did not plan on disciplining Stack, saying he was exercising his First Amendment rights. 
"A bedrock principle underlying the First Amendment is that the government may not prohibit the expression of an idea simply because society finds the idea offensive or disagreeable," Prater and school principal Leslie O'Connor said in a joint statement. 
Stack's resignation letter also invoked the First Amendment as defense for his editorial. 
In the original letter to the editor, "I quoted, verbatim, Romans 1:16-32," Stack wrote. "Now people are exercising their First Amendment rights by responding to that letter. This is how America is designed to function." 
Though the school originally invoked the First Amendment to defend Stack, Prater says the district is now conferring with its attorney. 
The passage Stack cited states that God would abandon men and women who engage in homosexual acts and their lives "became full of every kind of wickedness, sin, greed, hate, envy, murder, quarreling, deception, malicious behavior and gossip.
"They know God's justice required that those who do these things deserve to die, yet they do them anyway," the passage reads.
In his own words, Stack said the passage describes "a deception that has happened in the past, and is happening again right now, not only at SLOHS, but throughout the world."
Stack's original letter and the school's statement did not sit well with some community members, who showed up to the school on Thursday afternoon with rainbow banners that said "Love is love" and "Bigotry disguised as 'religious liberty' is still bigotry!" 
On the school's Facebook page, people posted pictures of the protests and condemned the ideology behind Stack's original note. 
"I can't help but go out and demonstrate that 'You are made in God's image and Jesus loves you,' and show the public what it means to be a real Christian," one person wrote.
Stack's resignation letter addressed the backlash.
"The community apparently wants me out, so I hereby grant them their desires," he wrote. San Luis Coastal Unified School District superintendent Eric Prater told the Tribune that someone called the school late Thursday morning threatening Stack's life.
"We are concerned for his safety," Prater said.