Nicki Minaj may start a charity to pay off her fans' student loans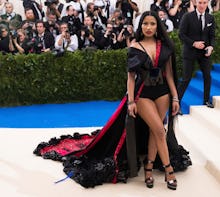 Nicki Minaj now officially has beef with student loans. 
After offering to pay some of her Twitter followers' tuition bills, Minaj posted to Instagram receipts of what she paid and signaled to others that their days of student loan tyranny may soon be over, as well. 
"This makes me so happy," she wrote on Instagram. "I'll do another impromptu payment spree in a month or two but please know that I'm launching my official charity for student loans/tuition payments very soon! You'll be able to officially sign up! I'll keep you posted." 
Minaj first began the loan forgiveness spree after offering some fans a trip with her to the Billboard Music Awards. After a fan instead suggested she pay off their college tuition, Minaj extended the offer to more and more fans in need. 
College tuition has become a hot cause célèbre among more than just Minaj. In April, Beyoncé announced the Formation Scholars program to honor the one-year anniversary of her landmark album, Lemonade. 
Given that the average college graduate from 2016 is expected to accrue $37,712 in debt by graduation day, any celebrities who want to follow suit would probably be greatly appreciated — even if they can't help solve the student debt crisis.