Trump touts "outsider" image, calls critics "pathetic" at Liberty University commencement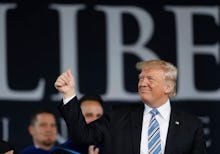 President Donald Trump took aim at the "establishment" in his first commencement address as president at Liberty University on Saturday, urging students at the conservative evangelical college in Virginia to embrace "being an outsider."
"No one has ever achieved anything significant without a chorus of critics standing on the sidelines," Trump said. "The more that a broken system tells you you're wrong, the more certain you should be that you must keep pushing ahead."
The speech — which received a standing ovation — was delivered just beyond the end zone in school's football stadium before what Liberty president Jerry Falwell Jr. said was a crowd of 50,000.
Trump opened the speech with what seemed a nod to the size of the crowd. "We always set records," he said. We have to set records. We have no choice."
From there, Trump devoted the majority of his address to calling on students to "never, ever give up," drawing a parallel between the small university's growth since it was founded in 1971 and his rise to power. 
"There is nothing easier or more pathetic than being a critic," Trump said. "The future belongs to the dreamers, not the critics."
It was the third time Trump has appeared at Liberty, founded by the late televangelist Jerry Falwell, who was best known for his anti-gay bigotry and for launching the so-called "Moral Majority" movement. In a campaign stop there in January 2016, Trump said Christianity was "under siege."
While he didn't drop another a "Two Corinthians" reference Saturday, he did joke that his presidential victory in November required "major help from God. And we got it."
"We don't need a lecture from Washington on how to lead our lives," Trump said. "In America, we don't worship government. We worship God."
Trump drew applause from the crowd when he made reference to the religious freedom executive order he signed last week, and promised to "stand up for the right of Americans to pray to God and follow his teachings."
"As long as I am president, no one is ever going to stop you from practicing your faith or preaching what's in your heart," Trump said. "America is beginning a new chapter."
Trump is the second sitting president to deliver a commencement address at Liberty, Falwell said. George H.W. Bush was the first. Falwell was effusive in his praise of Trump, who was awarded an honorary doctorate before his speech. 
"I've noticed a new hope and new optimism sweeping this country," Falwell said, calling on "our president's enemies" in the media and political establishment to "practice the tolerance they so often preach."
Trump returned the praise, calling Liberty a "place of true champions" and thanked evangelicals for helping elect him to office.
"Boy, did you come out and vote," Trump said. "Boy oh boy, you voted. You voted."
In one of the more bizarre sections of the speech, Trump read off the Liberty University football team's entire 2018 schedule, remarking several times on the difficulty of the competition they would face — "Jerry, are you sure you know what you're doing here?" he asked upon noting that the team would be facing perennial powerhouse Auburn. 
He also praised Hall of Fame NFL quarterback Jim Kelly, whose daughter was among Liberty's graduates on Saturday. "He knew how to win," Trump said.
But the majority of his speech was devoted to lofty rhetoric about challenging a "broken system" and persevering in the "critics and doubters."
"What will you give back to this country and indeed to the world?" Trump said. "What imprint will you leave in the sands of history? What will future Americans say we did in our brief time here on Earth?"