Woman reportedly tries to run GOP congressman who voted to repeal Obamacare off the road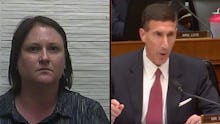 Here are a few safety tips when driving: Wear your seat belt, check your mirrors and don't vote to repeal Obamacare. 
Tennessee resident Wendi Wright was arrested after she followed Congressman David Kustoff in her car and attempted to drive him off the road, Memphis' WMC reported.
Wright faces a felony charge of reckless endangerment after following Kustoff and his aide on May 8. 
"What she was saying was more cursing at the congressman and his aides," Sgt. Marty Plunk told WMC. "But, I think the basis of all of it was a health care vote that he had cast that she was upset with."
The sheriff's department released Wright's mugshot and an account of the incident on Facebook. 
According to WMC, Wright's actions made Kustoff believe he was about to be forced off the road. When his vehicle stopped moving, Wright got out of her car and began berating him. 
"A protest is one thing," Plunk said. "She went a little further than that. You know she went to extreme levels of putting them in fear of their own safety."
According to WMC, the woman posted details of the encounter on Facebook, which is how she was found. She is due in court on May 15. 
Kustoff voted in favor of the American Health Care Act, the bill House Republicans passed as an attempt to repeal and replace the Affordable Care Act. However, the bill faces a tough road in the Senate. 
"It's almost not worth it, having insurance," Kustoff told WMC last year. "It's catastrophic."
Kustoff is not the only congressman who has felt the heat since his vote in favor of the AHCA. Idaho Republican Raul Labrador drew a chorus of boos when he suggested "nobody dies because they don't have access to health care" to a room of constituents earlier this month.