Meet Donald Trump's first four picks to replace James Comey as FBI director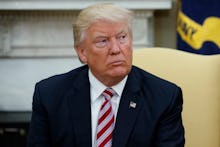 President Donald Trump floated four candidates this week to replace James Comey, the FBI director the president freely admitted he terminated over an investigation to his campaign's ties to Russia.
Trump's summary termination of Comey, reportedly after the latter refused to make a loyalty pledge, will hang heavily over whomever is selected to lead the agency. Questions like whether the new director will continue the FBI investigation or whether they will essentially be compromised in all matters involving the president may never be fully resolved in the public eye.
Regardless, Trump is steamrolling ahead with his plans to replace Comey as quickly as possible. Reuters reported he will interview four candidates on Saturday: acting FBI Director Andrew McCabe, New York Appeals Court Judge Michael Garcia, former Assistant Attorney General Alice Fisher and GOP Sen. John Cornyn. Here's what you need to know about them.
Acting FBI Director Andrew McCabe
McCabe, Comey's number two at the agency, assumed the deputy position during Barack Obama's administration and took control of the FBI when Comey was fired. He is well-regarded at the FBI as professional, intellectual and of total integrity, according to the New York Times, though sometimes backhandedly complimented as an excellent "briefer" — i.e., someone who is great at summarizing other peoples' work.
At a recent Senate Intelligence Committee, NPR reported, McCabe directly contradicted White House claims that Comey had lost the respect of FBI employees and reassured senators, "You cannot stop the men and women of the FBI from doing the right thing, protecting the American people and upholding the Constitution."
Thus, while McCabe may be a choice best positioned to limit further suspicion of Trump's motives, that same impartiality may doom his chances under an administration wary of inquisitive eyes.
New York Appeals Court Judge Michael Garcia
Garcia, a judge on the New York Court of Appeals, is a Republican who formerly worked as the top federal prosecutor in Manhattan from 2005 to 2008, according to the Times. He spearheaded the investigation into a high-end prostitution ring, which eventually implicated former Gov. Eliot Spitzer, forcing Spitzer's resignation. As the Times additionally noted, Garcia led a year-long private investigation into FIFA, the fantastically corrupt international soccer organization, though resigned after "disagreeing with the way the organization had characterized the results of his inquiry, which were never made public."
Former Assistant Attorney General Alice Fisher
Alice Fisher served as an assistant attorney general in the Department of Justice during George W. Bush's presidency, working in the DOJ's Criminal Division. According to the Associated Press, Fisher had little support among Democrats during her confirmation process amid concern she was involved in human-rights abuses at the Guantanamo Bay detention facility in Cuba. Bush eventually had to resort to the recess appointment process to place her in the job.
Fisher is now a managing partner at one of D.C.'s largest law firms, Latham & Watkins. In March, she delivered testimony supporting the confirmation of Trump's Supreme Court pick, Neil Gorsuch.
The FBI has never had a female director, according to the AP.
Texas Sen. John Cornyn
John Cornyn, the senior U.S. senator from Texas, served on the Texas Supreme Court and later as the state's attorney general from 1999 to 2002. He endorsed Trump as the GOP's presidential nominee when it became clear he would win the primaries, according to the Texas Tribune, though later said he was "disgusted" by Trump's misogyny.
There's one reason Trump might like the sound of FBI Director Cornyn: He's a Trump-Russia conspiracy skeptic.
Cornyn sits on the Senate Intelligence Committee and is participating in its investigation into ties between Trump's campaign and Russia, though he's at times expressed an interest in one of the president's favorite topics: finding out who keeps leaking damaging information about the Trump administration. Cornyn was also quick to defend the president's decision to fire Comey
"I've heard what I think is a phony narrative that he did this somehow to squelch the investigation into Russia, which I don't believe there's any evidence of," Cornyn said, according to the Tribune. "But if you assume that, this strikes me as a lousy way to do it. All it does is heightens the attention given to the issue. ... And we're going to conduct our investigation in the intelligence committee on a bipartisan basis."
Cornyn was recently uninvited from a commencement ceremony at historically black Texas Southern University when hundreds signed a petition calling the prospect of the conservative senator addressing the class an "insult."