Glenn Beck says he wants Bill O'Reilly to work for him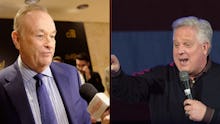 Are Glenn Beck and Bill O'Reilly teaming up?
The former Fox News hosts took to the Glenn Beck Program Friday to do some on-air back-slapping, and in the middle of the conversation, Beck told O'Reilly he'd like him to come work at The Blaze to "unite our powers for good."
"I would like to say publicly, honestly — and I know you're not going to get into this, so just shut the fat trap — it's why I would like you to work for TheBlaze," Beck said. "Because I could not get the cable coverage by myself because I'm not powerful enough, unless you have a giant corporation behind you. And when you have that, then you're beholden to somebody. But if we could unite our powers for good, as opposed to evil — but that's another conversation."
The comments came during O'Reilly's first interview since his ouster from Fox News in April amid a sexual harassment scandal that caused an advertiser exodus from his show.
In the interview, O'Reilly called his termination a liberal "hit" against him and blamed his ouster on an "organized left-wing cabal" that "terrorizes" his sponsors.
"It has to do with destroying voices that the far left and the organized left-wing cabal doesn't like," O'Reilly said.
He then praised Beck, who left Fox News in 2011 and started his own conservative network, for finding a way to control "his own destiny."
"I had to deal with a whole bunch of other things when they came after me, and people should know that you can say and do what you want to do," O'Reilly said. "Glenn Beck controls his own destiny, which is very different from most other people in the media."
That's when Beck made what some have interpreted as a soft offer, joking that he could pay O'Reilly in "sandwiches."
O'Reilly — who in his post-Fox News life has been hosting a podcast called No Spin News — did not respond on air to Beck's pitch, choosing instead to plug some of his books and take a shot at the media.
"Why would you take anything printed in the media seriously?" O'Reilly said.
Beck — who is being sued by right-wing provocateur Tomi Lahren for wrongful termination after she made pro-choice comments — finished the interview by admiring the size of O'Reilly's Fox payout and joking about writing a book called Killing O'Reilly.