North Korea says it's open to talks again after Trump praises Kim Jong Un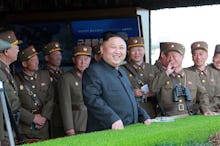 Weeks after President Donald Trump called North Korean leader Kim Jong Un a "real smart cookie" and said he'd be "honored" to meet him in person under the "right conditions," Kim's government hinted it might be willing to resume talks.
According to the BBC, after weeks of mutual saber-rattling over Kim's nuclear ambitions and continued missile tests, senior North Korean diplomatic official Choe Son-hui "told reporters in Beijing that bilateral talks between Pyongyang and Washington would be considered."
Trump's overtures toward direct diplomacy were broadly met with skepticism. In a recent interview, Republican Sen. Corey Gardner said it would be a "bad idea" for Trump to meet with a "madman" without preconditions like the end of the nuclear program, earning him a swear-filled rebuke from the North Korean state media. After having its bluff called on the route of a carrier group that administration officials said had been deployed to the Korean peninsula, the White House has attempted to have Chinese leadership increase their pressure on the infamously isolated and fragile North Korea economy.
It's unclear whether Trump's comments, which could have been a deliberate attempt at flattery or just another one of his off-the-cuff remarks, had anything to do with the change in tone. Other factors like the continued failure of North Korea's missile tests or South Korea's election of Moon Jae-in, a liberal reformist who has promised to resolve the conflict diplomatically, may have played a bigger role.
Trump's team has, in general, struck one of the most hawkish positions on the North Korean issue in recent memory, although his inconsistency could create openings for other resolutions to the conflict. Some experts warn Kim could use negotiations as a delaying tactic toward his nuclear ambition, though the only other options are likely a continued stalemate or potentially devastating regional war.