Report: Trump's pick for Dept. of Agriculture's chief scientist is not a scientist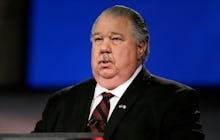 According to a report in ProPublica, Trump's expected pick to be the U.S. Department of Agriculture's chief scientist is not a scientist.
It's Sam Clovis, a former Trump campaign adviser with no formal scientific qualifications.
Clovis has taken no graduate-level science courses, has published "almost no academic work" and is primarily known for hosting a conservative talk radio show in Iowa, according to ProPublica.
While he does have a doctorate in public administration and worked at Morningside College as a business and policy professor, the 2008 Farm Bill designates the USDA's chief scientist as a person to be chosen "from among distinguished scientists with specialized or significant experience in agricultural research, education and economics."
Politico had previously reported Clovis was heading Trump's so-called "beachhead team" at the USDA. Those teams of political appointees were intended not only to help the Trump transition understand how each agency functions but serve as the president's "eyes and ears at every major federal agency," previous ProPublica reporting indicated.
ProPublica was not able to find any publicly available biographies or other information suggesting Clovis has "any experience in food safety, agriculture or nutrition". Nor does Clovis seem to consider those areas his primary field of expertise. He billed himself at the 2016 Fiscal Summit as a "federalism scholar" and "an expert in national security and foreign policy."
Clovis' biography continued, "He is considered the godfather of conservatism in the state of Iowa and has been one of the most consistent and strongest voices for conservatism in the country."
That voice apparently includes opinions like questioning the near-universal scientific consensus on climate change. Clovis has said warnings of negative effects from a warming planet are "simply a mechanism for transferring wealth from one group of people to another."
He told E&E News in 2016 that Trump's USDA would focus on trade and regulatory issues rather than climate-related issues. "I think our position is very clearly [that] Mr. Trump is a skeptic on climate change, and we need more science. Once we get more science, we're going to make decisions."
A changing climate will have serious impacts on agriculture, according to the National Climate Assessment and "have consequences for food security both in the U.S. and globally."
Clovis has also suggested the only reason Barack Obama was not impeached was because of his race, according to a 2014 Daily Times Herald article written when Clovis was running for the Senate, and that Democratic candidate Hillary Clinton should have contained her husband's "sexual predation."