White supremacists, including Richard Spencer, protest removal of Confederate statues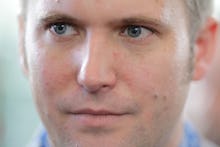 A crowd of protesters descended on Charlottesville, Virginia, Saturday, taking part in two protests over the town's decision to remove statues of Confederate Generals Robert E. Lee and Thomas "Stonewall" Jackson from local parks.
Charlottesville City Council voted to sell the statue of Lee in April, the Daily Progress reported, but an injunction has prevented them from removing Lee's statue for six months. The city council also voted to remove Jacksons' statue, but there has been no further ruling regarding its removal, CBS19 Newsplex noted.
The removal of the statues has been denounced by Southern heritage groups and those on the far-right, the Daily Progress notes, including Republican gubernatorial candidate Corey Stewart and white nationalist Richard Spencer, who attended Saturday's protests. Charlottesville is one of several Southern cities whose Confederate tributes have recently been called into question or removed, the New York Daily News noted.
On Saturday afternoon, NBC29 reported, the pro-statue protesters gathered in Charlottesville's Jackson Park, where the statue of Jackson currently stands, to protest the removal of the statues. The white nationalist protesters were met by supporters of the removal and a fight broke out between the groups, prompting police to get involved. No arrests were made.
Saturday's protest, the pro-statue protesters told NBC29, was a way to "protect" their "white heritage."
"I'm here to take part in this great celebration of our heritage and to say 'no' to the city of Charlottesville. You're not going to tear down our statue and you're not going to replace us," Spencer told NBC29.
Shortly after 9:00 p.m. Eastern time, the white supremacist protesters made their way to Lee Park in Charlottesville, where the statue of Lee stands, for a second pro-statue protest. The protesters wielded torches and chanted "You will not replace us," "Blood and soil," and "Russia is our friend," the Daily Progress reported.
The second protest reportedly lasted for approximately 10 minutes, after which police arrived on the scene.
"This event involving torches at night in Lee Park was either profoundly ignorant or was designed to instill fear in our minority populations in a way that hearkens back to the days of the KKK," Charlottesville Mayor Mike Signer said in a statement, as quoted by CBS19 Newsplex. "Either way, as mayor of this city, I want everyone to know this: We reject this intimidation. We are a welcoming city, but such intolerance is not welcome here."