Federal immigration agent looking for fourth-grader at NYC school blocked from entering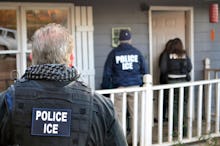 An officer from the United States Citizenship and Immigration Services was denied entry Thursday to an elementary school in Queens, New York, when they arrived looking for a fourth-grade student, Mayor Bill de Blasio's office reported.
A school safety agent and administrator turned the agent away when they arrived at Public School 58 without a warrant, Gothamist reported. Mayoral spokesman Eric Phillips tweeted that the agent left when school officials failed to provide assistance, and that it was unclear why the agent was trying to locate the student.
"All students, regardless of immigration status, are welcome in NYC public schools, and parents should rest assured that we will do everything in our power to protect students, staff and families," chancellor Carmen Fariña said in a statement, according to Gothamist. "The federal agent was turned away — we're looking into this incident and are providing schools with additional information on our protocol and more trainings."
The school's refusal to cooperate with the agent is in line with the New York City Department of Education's policy on federal immigration agents. As stated on their website, the city's DOE "does not consent to non-local law enforcement accessing school facilities in any circumstances, and principals and other school personnel may not give consent."
In March, Fariña and Nisha Agarwal of the Mayor's Office of Immigrant Affairs sent a letter to students and their families reaffirming the school system's commitment to protect students, regardless of their immigration status. 
The letter explains DOE staff will not release information about students or permit federal immigration agents to enter schools unless they are "absolutely required to by law," and said the school district will provide affected students and families with workshops and social-emotional support systems.
"In New York City we are committed to the ideals embodied in the Statue of Liberty," the letter reads. "We are a nation of immigrants, and we are a city of immigrants. We are stronger because of our differences. Today, alongside all New Yorkers, we reaffirm our commitment to stand with you."
Correction: May 14, 2017