Marine Corps releases first video featuring a woman recruit in the lead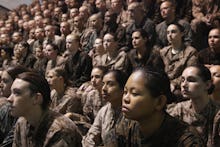 Amid backlash over treatment of women in its ranks, the United States Marine Corps released its first-ever national commercial featuring a female recruit, according to the Associated Press. 
The ad, titled "Battle Up," published on YouTube Friday. It follows a woman from childhood, when she breaks up a group of girls bullying another student; through adolescence, as she fights her way down a rugby pitch; to her career as a Marine, in combat and serving the homeless. 
Notably, the ad's star is an actual Marine — Capt. Erin Demchko, who spoke to the AP about the experience of filming. "Everything felt different with all the staff and cameras," Demchko, a deputy commander at Camp Courtney in Okinawa, Japan, who previously served in Afghanistan, recalled. The ad, she explained, "is targeted at young women who are seeking a way to challenge themselves." 
Women are underrepresented in the Marine Corps, comprising 7% to 8% of its membership, according to Time. The AP reported that the Marine Corps aims to increase women in its ranks to 10% by 2019. However, a recent nude photo-sharing scandal complicated that goal.
In early March, news broke that a huge number of U.S. military personnel and veterans were involved in distributing nude photos of servicewomen in a Facebook group called "Marines United," which had about 30,000 members. According to the Marine Times, the scandal implicated "potentially hundreds of Marines." The women involved were fully identified in the photos' captions. 
The Navy and Marine Corps responded by criminalizing nonconsensual nude photo sharing, but sex-based discrimination is a recurring problem for the military. Sexual assault rates within the ranks of the armed forces are disconcertingly high, but according to Maj. Gen. Paul Kennedy, head of Marine Corps Recruiting Command, the Marine Corps wants to change its image. 
This commercial is intended as a step toward that end. Kennedy explained that the goal is for viewers, especially those who might be interested in enlisting, to watch the ad and "not think that we are only looking for a few good men, that we're actually using all of our recurring efforts to find good women as well."