Anti-choice protesters arrested for blocking entrance to Kentucky's only abortion clinic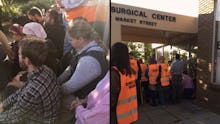 Kentucky's lone abortion clinic saw a number of arrests this weekend, as Louisville Metro Police took 10 protesters who had formed a human chain at the clinic's entrance into custody early Saturday morning.
The Courier-Journal reported that Operation Save America, an aggressively evangelistic organization that's vehemently opposed to abortion, staged the stunt outside the EMW Women's Surgical Center at roughly 6 a.m. local time on Saturday. OSA's national director, Rusty Thomas — author of a pamphlet called Field Manual for Abortion Ministry — and told the Courier-Journal that "protesters" wasn't really the right word for his flock.
"We never go to protest anything," Thomas said. "We are ministers of the gospel of our Lord and Savior, Jesus Christ, and we go to proclaim through word and through Godly action, his great truths and his great Salvation and also to confront our national evil and national sin called abortion and ... to rescue these children who are being led to slaughter and provide for them a defense and a voice."
Thomas was among those arrested, according to the Courier-Journal. Police reportedly asked the protesters "numerous times" to disperse — as Jezebel reported, blocking the entrance to an abortion clinic violates 1994's federal Freedom of Access to Clinic Entrances Act, which specifically prohibits "physical obstruction" intended to "injure, intimidate or interfere with" patients' entry into a reproductive health care center. 
According to the Louisville clinic escort blog Every Saturday Morning, about 100 people gathered to watch what became "the wildest spectacle" one escort had seen in nearly two decades on the job. Protesters "tightly packed" around the clinic's entrance forced the escort to reroute down an alley and through the back entrance. Despite the chaos, the blog states, "NO APPOINTMENTS WERE MISSED."
EMW is embattled after Kentucky Gov. Matt Bevin ordered it to cease abortion care in March. The ACLU intervened, filing a federal lawsuit arguing that Bevin's reasons for closing the clinic — basically, that it didn't meet the same surgical standards hospitals do — had already been declared unconstitutional under the U.S. Supreme Court's Whole Woman's Health v. Hellerstedt decision. In March, a federal judge issued a temporary restraining order that kept EMW open. It was renewed in April, allowing the clinic to continue practicing at least until the ACLU's case is resolved. 
Thomas vowed that he and his OSA followers would be back in July, pushing for Kentucky to "become the first surgically abortion-free state in the United States of America." Louisville clinic escorts are accepting donations to their legal defense fund in anticipation of a weeklong siege by the OSA.