A new Super Nintendo game is getting a physical release next month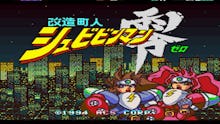 Back in 1995, the Japanese version of the Super Nintendo, the Super Famicom, got a special modem peripheral known as the Satellaview. It was capable of receiving signals broadcast from satellite, which resulted in special time slots that gamers could tune in on. It was an interesting product, with experiences that are now mostly lost to time thanks to the ephemeral nature of timed broadcast. 
One game in particular, a beat-'em-up called Kaizou Choujin Shubibinman Zero, was originally released for the Satellaview in 1997. According to GameSpot, in a surprising turn of events, it's getting a physical release for the first time ever, 20 years later, in Japan.
Super Nintendo game physical release: Kaizo Choujin Shubibinman Zero gets its first cartridge release
Kaizo Choujin Shubibinman Zero was never available beyond an exclusive download for the Super Famicom's Satellaview, so the fact that players will now be able to purchase a physical copy of the game for its 20th anniversary is big news. It'll retail for about 6,998 yen (about $62) when it goes up for sale in June. 
This will likely mark the first time some gamers will have ever played the game proper, as the Satellaview previously required a subscription service for those who were interested in playing its games, though it was part of the Super Famicom. Games were broadcast at scheduled times and could only be accessed as part of those times, much like catching your favorite TV show. 
The Kaizo Choujin Shubibinman series is comprised of four games, with Kaizo Choujin Shubibinman Zero the final entry on Super Famicom. Shubibinman Zero introduced two new heroes named Raita and Azuki, in comparison to Tasuke and Kyapiko, the dynamic duo from the previous games. Raita is something of a boxer, and Azuki fights with a sword. They can also join together to unleash the powerful Shubibinman Buster, which can win out several enemies. It's a game that's meant to offer roles for two players, with plenty of enemies to fight against and creative level design. 
Super Nintendo game physical release: The Kaizo Choujin Shubibinman series in the United States
Strangely, it was Kaizou Choujin Shubibinman 2: Aratanaru Teki that did make its way overseas as Shockman for the PC Engine in 1992. A follow-up to the original game, it follows Arnold (Tasuke) as he joins up with friend Sonya (Kyapiko) to investigate an alien invasion led by the nefarious Ryo.
Luckily they've both got special powers to keep them afloat. But Dark Shubibinman Jeeta (Beta) and Mue (Myu) with powers similar to Arnold and Sonya have cropped up as well, leaving the dynamic duo to rescue the kidnapped Doc and save the world from Ryo. If that sounds interesting, it's still available for purchase today via the Wii's Virtual Console. 
This is an interesting choice for Japanese Super Famicom fans, and a great way to celebrate one of gaming's most intriguing services akin to the Sega Channel. Long live the Satellaview!
More gaming news and updates
Check out the latest from Mic, including our list of video games that made fun of their players, a personal essay about dealing with anxiety through Breath of the Wild, a look at the racist and sexist experiences in esports and a plea for better character customization options for black characters.