'Parappa the Rapper' and 'Gitaroo Man' creators team up for 'Project Rap Rabbit'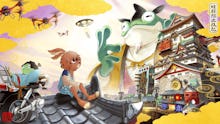 The creators of two legendary rhythm games have teamed up for a new title. It's called Project Rap Rabbit, and as a collaboration from PaRappa's Masaya Matsuura and Gitaroo Man's Keiichi Yano, it looks like it could be one of the next great rhythm gaming greats.
Featuring a plucky young rabbit who looks like a burgeoning samurai and a frog with similar aesthetics, it combines effortlessly cool feudal Japan design with rap sensibilities.
Parappa the Rapper and Gitaroo Man creators: What is Project Rap Rabbit?
NanaOn-Sha and iNiS have launched a Project Rap Rabbit teaser site and official social media accounts on Facebook and Twitter, but all we have to go by right now when it comes to figuring out what kind of features it will include is a short teaser posted via the game's official Twitter profile, @ProRapRabbit.
It looks like the city might be under some kind of oppressive rule, particularly since the image of a giant toad leers above our Rap Rabbit and frog. Turntable scratches punctuate familiar hip-hop beats. It's familiar yet exotic, and you can certainly see the influences of both Matsuura and Yano.
If Project Rap Rabbit is anywhere near as great of a rhythm game as its predecessors, it will absolutely be worth picking up. The developers have stated that additional information is coming soon, but for now to whet your rhythm gaming whistle you can always play Matsuura's PaRappa the Rapper Remastered, or Vib-Ribbon, which finally emerged as a PSOne Classic in 2014.
More gaming news and updates
Check out the latest from Mic, including our list of video games that made fun of their players, a personal essay about dealing with anxiety through Breath of the Wild, a look at the racist and sexist experiences in esports and a plea for better character customization options for black characters..