Miss District of Columbia, Kara McCullough, wins Miss USA 2017 pageant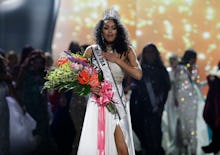 Kara McCullough, Miss District of Columbia, bested 50 other women to earn the title of Miss USA 2017. 
McCullough, 25, works as a scientist at the Nuclear Regulatory Commission, an independent agency of the U.S. government, and has an outreach program dedicated to tutoring children in science and math. 
In one of her final answers, McCullough said she believed health care is a privilege — an answer many on Twitter took issue with.
McCullough follows Miss USA 2016 Deshauna Barber, who also hailed from District of Columbia.