Zelda Mobile Game Rumored: Release date and price still a mystery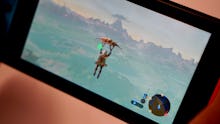 It's been a big year for Nintendo so far — with the release of the Switch and the wild success of Breath of the Wild, it really couldn't get much better. Or can it? According to a report from the Wall Street Journal, Nintendo is developing a Legend of Zelda mobile game. 
Everything we know about the upcoming Legend of Zelda mobile game
A mobile game in the Legend of Zelda series would be the fifth mobile release by Nintendo. The company previously launched Miitomo, Super Mario Run and Fire Emblem Heroes, and it plans to release an Animal Crossing mobile game. 
As written in Polygon, the Animal Crossing game should be released before the end of Nintendo's fiscal year, which is March 31, 2018. So, unless the far-reaching success of Breath of the Wild has convinced the company to change to change their design plans, we probably won't see any Legend of Zelda mobile games until mid 2018.
More gaming news and updates
Check out the latest from Mic, including our list of video games that made fun of their players, a personal essay about dealing with anxiety through Breath of the Wild, a look at the racist and sexist experiences in esports and a plea for better character customization options for black characters.