North Korea is reportedly celebrating the test of a "perfect weapon system"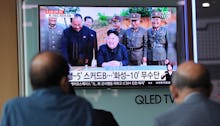 North Koreans celebrated the test of a "perfect weapon system" ­Sunday morning after leader Kim Jong Un and his team successfully launched a new intermediate-range ballistic missile system capable of carrying "a large-size heavy nuclear warhead," according to the Washington Post.
"North Korea's latest successful missile test represents a level of performance never before seen from a North Korean missile," John Schilling, an aerospace engineer, told the Post. 
Sunday's success, according to Schilling, could mean that it might only take North Korea another year, rather than the five previously expected, to develop a working intercontinental ballistic missile capable of reaching the mainland United States — something that the country has long worked toward.
In a press release touting the missile's success, the Korean Central News Agency used typically provocative language to challenge the U.S. directly.
"If the U.S. awkwardly attempts to provoke the [Democratic People's Republic of Korea], it will not escape from the biggest disaster in the history," the agency quoted Kim as saying, according to the Post. 
"The U.S. should not ... disregard or misjudge the reality that its mainland and Pacific operation region are in the DPRK's sighting range for strike and that it has all powerful means for retaliatory strike." 
Tensions have simmered on the Korean peninsula since April, when Kim and his government conducted a series of missile tests that demonstrated both the country's growing military capability and its willingness to remain belligerent in the face of international pressure.
President Donald Trump — who has in the past praised Kim as a young leader who "doesn't play games" — has repeatedly said that all options are on the table when it comes to negotiating with North Korea.
"If it would be appropriate for me to meet with [Kim], I would absolutely, I would be honored to do it," Trump told Bloomberg in May. "If it's under the, again, under the right circumstances. But I would do that."
On Saturday, Pyongyang echoed that willingness to enter talks, with top North Korean diplomat Choi Sun-hee telling reporters that Pyongyang would be willing to negotiate "if the conditions are set," Time reports.