The new Miss USA said affordable health care in America is a "privilege," not a right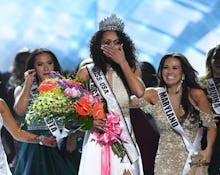 The newly crowned Miss USA won her title Sunday night in spite of an eyebrow-raising answer about affordable health care in America.
Kara McCullough, 25, who was representing the District of Columbia, didn't hesitate to link health care access to job creation — leaving some to wonder whether she believes that those without jobs don't merit access to coverage.
"I'm definitely going to say it's a privilege," McCullough said during the question-and-answer portion of the pageant.
"As a government employee, I'm granted health care. And I see firsthand that for one to have health care, you need to have jobs, so therefore we need to continue to cultivate this environment that we're given the opportunities to have health care as well as jobs to all the American citizens worldwide."
The answer sent Twitter users into a frenzy, which was only compounded by the fact that McCullough went on to take home the 2017 pageant's top prize later in the evening.
In a separate exchange, McCullough also offered a weak rejection of feminism, claiming that she prefers to "transpose" the word feminism to "equalism."
But the controversial answers ultimately didn't stop McCullough from winning the crown, even after her chief rival — Miss New Jersey Chhavi Verg, who took second place — offered her own praise-worthy definition of what feminism means.