No, bruh, Chrissy Teigen did not get a revenge lower back tattoo — well, not quite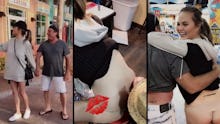 The lower back tattoo hall of fame, with members including Angelina Jolie, Amy Schumer and David Beckham, has a new recruit: Chrissy Teigen. But don't get too excited — her induction is only temporary.
"It's just a prank bruh:" Those are the words inscribed in what many fans believed was Chrissy Teigen's new lower back tattoo.
Turns out, true to the meaning of the phrase, the new tat is in fact only a temporary one, "inked" on the model's back and the back of her new pal Eddie, whom she picked up during a recent trip to Miami.
"I'm Chrissy Teigen, and you guys get to pick your ultimate henna on my lower back," Tiegan says in the first Snapchat video in the series, rocking a sweatshirt dress, an Adidas snapback and her daughter Luna in her ams.
"Hi guys this is me and Eddie and Eddie's going to get a matching henna tattoo on his lower back with me," Teigen proudly announces as baby Luna cries in the background.
"John got to dance with a woman at his concert, so Chrissy gets to take one man and hold hands with him," the person filming Chrissy's Snapchat story narrated, adding: "John, don't be jealous."
The unlikely pair finally find a destination.
That's when the inking process begins.
"While John's on tour this is what Chrissy does," the narrator explains while Teigen sits crouched in a zen-like state getting her henna.
Here's a close-up of the results:
And here's a zoom-out:
Unfortunately, the "lasts up to a month" promise outside the shop turned out to be somewhat misleading advertising.
This nine-part story is riveting at points: Will she/won't she? What will it say? Will it last? It also proves that Teigen is more than primed for her own reality series.