A$AP Rocky, Frank Ocean "Raf" lyrics: Breaking down the bars lauding designer Raf Simons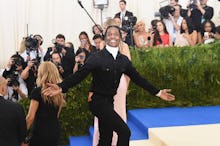 Two years after his sophomore LP, At. Long. Last. ASAP, A$AP Rocky has returned with a new song called "Raf," and he's brought a crew of fellow hip-hop stars along with him. Premiering on Frank Ocean's Blonded Radio early Monday, the track features guest appearances from Ocean, Lil Uzi Vert, Quavo of Migos and Playboi Carti.
Over an eerie, minimalist trap beat from Dun Deal, the rappers trade bars about their Raf Simons outfits, using the self-made designer's pieces to flaunt their wealth and status. 
Why Raf Simons?
Simons is a largely self-trained designer from Belgium. After getting his start in furniture design, he launched his own mensware label in 1995 with encouragement from Linda Loppa, head of the fashion department at the Antwerp Royal Academy. He's since served as creative director for legacy brands Jil Sander, Christian Dior and Calvin Klein, helping to revitalize and update their styles.
His story lines up well with the self-made narratives of ASAP Rocky and Frank Ocean. "Might invest into some Raf shares/ Lil niggas still share Raf," ASAP raps in his opening verse.
The most convincing boasts come from Frank, who in addition to his haunting falsetto also has proved he's got some solid flows. He uses the opportunity to flex the independent status he gained after finishing out his Def Jam contract with the release of last year's Endless: 
Ain't executives flexin' my blessings
He also hypes the special White House invite he got from former President Barack Obama for his final State Dinner. It's where Ocean gave his first interview in years, to CSPAN, of all publications:
Plate of ravioli at Obama's right right
Read the rest of the lyrics to "Raf" via Genius here. Listen to "Raf" here.